Volvo XC60 Review
Test Driving with Europcar Prestige Rentals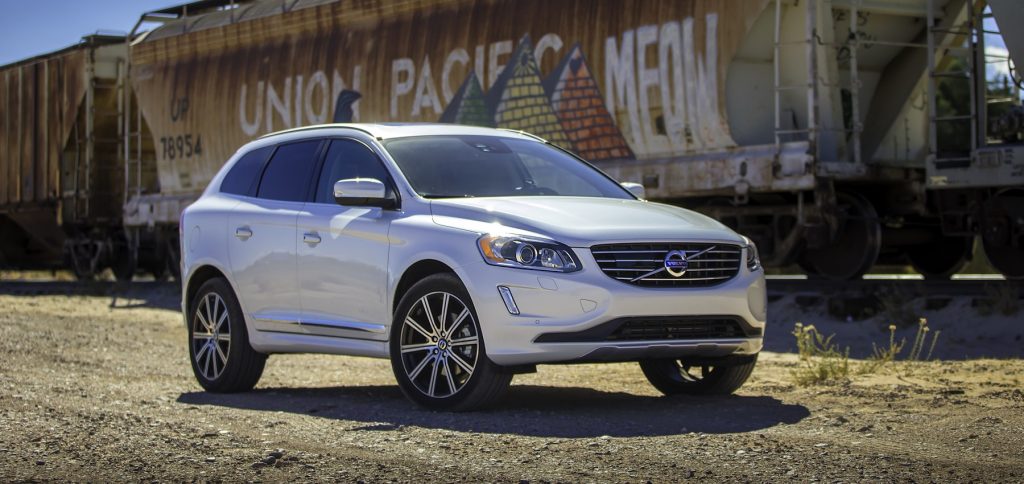 What's your first thought of a Volvo driver?
Safe, probably old, conservative, and likely drives too slow. Right? This is what I've known the Volvo brand to culturally represent, and at times embody, since I was a young boy.
Until 10am yesterday morning, I was such an ass.
The story that preceded my embellishment of the Volvo Driver may be just as interesting as lugging the SUV around the city. Like many good stories, it starts with a planned trip to the airport. Sydney airport to be precise.
As you may have figured from my previous reviews, I don't own a car. Only a motorcycle. And despite my creative imagination, my dearest Bangladeshi in-laws don't fancy stacking their entire family, luggage and a pet monkey on a motorcycle. This does happen in the Indian sub-content though. Trust me.
Alas, we needed a car to pick up my Father-in-law from Sydney airport. Why not make a day of it?
Although I'm lucky enough to get incredible rates with Hertz, it would mean yet another Audi review – either the Q5 like I reviewed here, or the A4. In my view, there are plenty of Audi reviews on Ride Hacks, so I opted for the Europcar Mercedes-Benz C200.
In true Europcar fashion, they didn't have the car available. So I was downgraded to a Volvo XC60.
I wasn't downgraded at all.
The Europcar Prestige Booking Process
Just like the Ultimate Guide to Hertz I wrote in November 2015, I'll be writing a guide on Europcar in March 2016. Much of the booking process will be documented in this guide. Here are a few quick hints.
Outside of special rates, the best way to get a deal on Europcar is through their microsite for Etihad or Accor. Now that I've completed the process a few times, I've never actually been asked for my Etihad Gold card. I don't think they intend on ever asking.
The most convenient Europcar to me is Darling Harbour – a small branch. It's less than ten minutes from door-to-door. However, this comes with potential problems, such as:
You can wait up to 20 minutes to be served. They usually only have one person on duty and if you have a tourist in front of you who shows up asking for the full explanation of how car rentals work in Australia, be prepared to wait.
They don't have a lot of room in the parking garage and rarely have the car you want. This happened to me last time booking the C-Class (again!). I had to travel into the City branch to pickup the replacement car. I was upgraded to the Mercedes-Benz SLK200, so all was okay.
As there is usually only one person on duty, and it's common that no one is there to check the car in when you finish your rental. This could result in damage being reported on the vehicle that you didn't cause. When someone checks the car in front of you upon your return, they have to argue to your face.
The Premium category of Europcar comes with the hefty $6,600 excess, requires two credit cards, and a holds a 200km daily limit. In this case of the Volvo XC60, I had no distance limit.
One final point. You're likely not to find the Volvo XC60 anywhere besides Sydney Airport. It simply wasn't available from any city location when I was searching for this review.
I was just lucky that they stuffed up my C-Class, I guess.
Volvo XC60 Performance and Drive
The Volvo XC60 is the Fullsize Elite (GFDR) of Europcar Australia. As they don't have the XC90 big brother in their fleet (Hertz do in the UK), the XC60 is the largest Prestige SUV available. Despite being somewhat the same dimensions as the Audi Q5, it felt like a larger car. Although not as large as the Hertz Audi Q7.
Maybe it's the dangerously edgy ass. Who knows. It just feels bigger.
The engine in the Europcar XC60 is the T6 3.0L. It's a six cylinder turbo. Yes, it will maliciously interrogate your wallet when you need to fill up. For the 98km during my rental, the fuel economy sat between 13L/100km and 18L/100km.
Why a range? Well, I actually filled up with 18L of fuel and travelled 98Km. Considering the haste in which the first fuel bar dropped off my instrument panel at the beginning of the rental, my guess is that the tank wasn't completely full when I picked up the car.
Why is the fuel economy so bad?
Answer: hurl 2500kg to 100km/h pushing out 224kW and 440Nm into four wheels, in under 7 seconds. That's why.
This car is fast. Surprisingly fast. If a Volvo driver is being a slow pain in the ass, it's likely not their car.
This car also featured Polestar – the performance upgrade responsible for G-forces, smiles and light wallets. The Sport Mode with tiptronic paddles works as expected, but feels too jumpy for an otherwise smooth power delivery. I tried it and switched back when the consumption indicator didn't drop below 20L/100Km. My 10th grade physics teacher just proved his point.
Ride comfort is outstanding. It's likely better than the Audi Q5. Unlike the visceral pain that we felt in the BMW Z4 driving on Sydney's worst-kept roads (Canterbury area), the Volvo XC60 hunted for potholes and survived with that grim Volvo look on its face. I know, you see it.
There is no doubt that this would be the ideal car to take on a country drive and trips to the snow. Sit me for six hours in this SUV any day.
Pure Sweedish Design and Style
Within the rental-sphere, the closest option is the Hertz Audi Q5.
How does the design and styling of the Volvo XC60 compare with the Q5? It depends if you're a 'what's on the inside counts' – kind of person.
If you are, then the Volvo XC60 interior beats the Audi Q5. Although some parts could be compared to the Audi Q7, after reviewing both cars I unexpectedly feel like the Volvo is a class above.
Don't get me wrong, I appreciated the interior of the Q5 and Q7. However, every aspect of the XC60 feels more refined, precise and opulent. We're not quite in Range Rover or Porsche Cayenne territory here. But the difference is notable.
The first thing you will notice are the seats. They are soft leather, somewhat adjustable, and enjoyable to plant your butt for a few hours. Then you will notice the combination of leather, aluminium and matte plastic that fills the interior.
When it comes to the interior, the Europcar Volvo XC60, a $75,400 car for $85 per day, beats the Audi Q5, a $63,200 car for $150 per day, hands-down.
Now if you are a GQ kinda guy and the exterior matters, you might find that the Volvo XC60 falls short.
Look, I'm sure some people find this car attractive. Honestly, I can't see it. It's just a bit too round in some places and too square in others.
This particular model is the R-Design edition with a few additional sporty design elements. Nothing worth talking about, yet the car was finished cleanly.
Volvo Audio and Technology
There are way too many tech features in this XC60 to write about. Instead, let me point out what stands out from its competition in the rental world.
Sound. Yes, the sound of a 14 Harman Kardon speakers does me just fine, thanks. The upgraded Audi Q5 system with subwoofer is good (the Audi Q7 sound system is terribly atrocious), but this is another class above. The sound is crisp, Bluetooth and USB connectors are easy to extract music from, and the on-screen display lets the passenger control the experience.
By contrast, the navigation and GPS were standard issue, not the SENSUS upgrade, which apparently adds greater functionality to the control system. As a GPS navigation, it wasn't as easy or detailed as I would have expected, I'd prefer the Q7's 'Cockpit' display. However, the interactive menu was easier than most cars I've sat in recently, changing settings on the fly was a breeze.
The driver's instrument panel is full LED. The information is clear and you don't need to spend a lot of time working out what everything means. One funky feature is the bright/dim focus on the speedometer. When you're at 40km/h only zero to 80km/h have a strong backlight, whereas from 80km/h up to 260km/h is slightly faded. This focus band moves up as you increase speed.
In terms of capability, I would feel comfortable taking this car off-road or in the snow. It should be noted that rental cars can be caught out with no insurance if you don't specifically purchase this off-road or snow cover. More on this in the upcoming Europcar guide.
If you were planning a trip to IKEA or taking four adults to the snow for the weekend, you're going to have enough room. The boxy ass on this car gives you a lot of boot space to play with. If you need more, pack less.
The Competition
The immediate competition for the Volvo XC60 is the Audi Q5, BMW X3 and Mercedes-Benz M250. Now that Hertz have removed the BMW X3 from their fleet in place of the Q5, you will need to step outside of the mainstream rental companies in Australia to have viable alternatives.
DriveMyCar Mercedes-Benz ML250
You may want to consider the slightly bigger Porsche Cayenne or Range Rover Sport in the same category, although these cars are double the price and harder to get hold of for a few rental days.
Final Thoughts
Suprised. That's how I feel.
I've never driven a Volvo, have incorrectly judged them for my entire life, and realised that $85 per day can buy one hell of a car.
I wouldn't be rushing out to buy one. Although it's now positioned to be the perfect car to take to the mountains for a few days.
Outstanding comfort, great sound, in an aesthetically-challenged shell. Given this, I guess I can't really say that I'm a Volvo driver, yet.
Love renting unique cars?
We rarely send email, but when we do it is full of the juiciest tips and tricks on discovering unique car rentals.
You've already subscribed! Want to get in touch? Send us an email at
[email protected]
Enjoyed this post?
Why not subscribe and join the occasional Ride Hacks newsletter?
Subscribe