76 hours with the Tesla Model S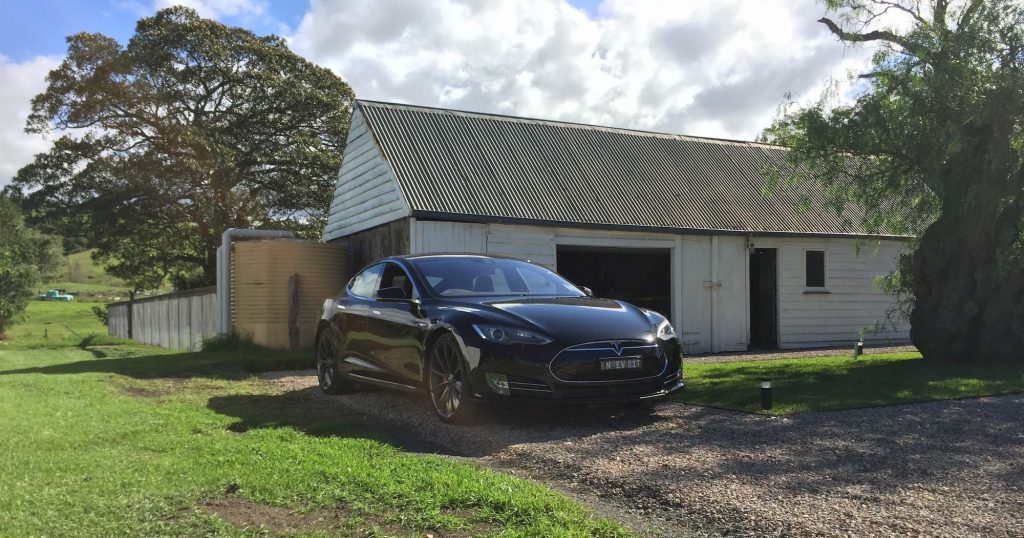 The preparation started long before the first email introduction to Tesla.
Like many enthusiasts, I had followed the product launches, watched Youtube reviews and even booked myself for a test drive. Yet I didn't feel ready for the following 76 hours reviewing the Tesla Model S.
At the end of my Tesla experience, how did I want to remember it?
In my previous Ride Hacksarticle, I pondered upon who the Model S was designed for and who should consider owning it. The article below is a less-wordy recount, detailing what it was like owning a Tesla Model S for 76 hours.
Day 1 of my Tesla Model S Review
9:30am pickup
Waking up felt like any other day. Although perhaps the departure from my bed was more of a childish jump rather than the usual stumble. Looking like the front man of a one-man marching band, I arrived at the Tesla dealer in Artarmon (Sydney) at 9:30am (neither 9:29am nor 9:31am) holding every piece of my camera gear, not knowing what I may need. Holding back my excitement, I put on my best calm person voice and remarked:
Morning! I'm here to take the Model S for three days.
In retrospect, I wasn't so calm.
After some back and fourth with the kind soul trying to make sense of my boyish excitement, I realised that I forgot to explain it was the media car I booked, and not a customer regular test drive. No, I wasn't insisting that I was to take their sales rep hostage for three days. They showed me to my car.
It was 99% of the car I wanted to drive, only missing the panoramic roof to be on the money. Otherwise, I was sitting in almost (no cold weather pack either) the top of the range Tesla Model S P90D with ludicrous mode enabled. Can you imagine that feeling?
The Tesla representative asked the obvious question:
Have you driven one of these before?
My response:
Yep
Tesla guy:
Great, have fun!
Trip overview
Follow along my journey with this Google Map showing each of the three days.
Note: You can turn each of the days on and off.
The drive from Sydney to Kiama
The first day was a big one the first of several big ones. The plan was to drive to the Goulburn supercharger — the first supercharger out of Sydney if you're heading to Melbourne. For me it would be a slight detour to the coastal town of Kiama and it's neighbouring dairy village of Jamberoo, before climbing the Jamberoo mountain to the NSW Southern Highlands.
I was picking up my Dad as the first passenger for the trip. This was my first time to see the quintessential Tesla reaction. It's incredibly fun watching the controlled facial expressions of a grown man when they secretly feel like smiling ear-to-ear like a young boy under ludicrous G-Force.
Our first stop was at the beautiful Terragong bed and Breakfast just outside the old dairy village of Jamberoo. As the only Destination Charging location on the coast south of Sydney, it's the perfect place for the Tesla owner to stay for a night or two south of Sydney.
Simon, one of the owners, gave us a tour of their historic guest house while we were adding some well-needed kWh to our battery. It was a quaint moment observing early-adopter futuristic technology contrasting 19th-century agricultural architecture.
Read more about Terragong here.
Up the mountain to the Goulburn Supercharger
With a bit of extra battery juice from the shiny Tesla charger in the old horse stable, we climbed 744m of elevation up the 22km Jamberoo Mountain Road towards Goulburn. We felt the most remarkable performance from the Model S whilst climbing the mountain. With a low center of gravity and all-wheel-drive, the front wheel grip in the hill climb was unparalleled by any car I've previously driven.
Want to know a secret? Here is the one thing that annoys me about the typical motoring journalism covering the Tesla Model S. Everyone talks about the straight-line acceleration, followed by the caveat:
Oh but it slows down after you get over 100km/h. Find a supercar for that.
This is such a cheap statement and doesn't do justice for the inherent strengths of combining a low center of gravity, extremely high torque, and all-wheel-drive. Take this car up a mountain if you want to know how it drives. Yes, it will eat a lot of battery when you're simultaneously fighting gravity and inertia. Your physics teacher was preparing you for this moment.
After reaching the mountain crest, we made our way across a mix of primary and secondary roads towards the great Hume Highway passing by Goulburn. On these sorts of roads the Model S presented her true colours. It was a comfortable drive, soaking up the imperfections of the unmaintained secondary roads, and letting us solve the problems of the universe without thinking about driving. In some cases, autopilot meant that we could have continued the conversation in the rear seats and let the car drive itself.
Alas, we didn't. Remember kids: don't play chicken with robots, they don't have feelings and don't care if they get hurt.
The Model S is an executive car similar in comfort to an E-Class Mercedes-Benz, 5-series BMW, or Audi A-something. It's not the AMG, M or RS variants. It's not a driver's car. More on that in my first article.
Arriving at Goulburn on 5:00pm, we were the only Tesla in the parking lot of eight superchargers. With a starting battery of 44%, we hooked into the supercharger and walked into the town center for dinner. When we returned to the car one hour later we progressed to 97% and decided it was time to head back. I still had four hours driving ahead of me for the day.
Day 2
No rest for the wicked. I was up bright and early to meet Luke Miles from LME Electrical Contractors — preferred home installers for Tesla charges in the Sydney area.
This would be the first of four trips during the day crossing several of Sydney's most congested choke points: The Anzac Bridge, Sydney Harbour Bridge, and The Spit Bridge. The first time wasn't so bad, Autopilot helped me from needing to touch the accelerator or brake during the start-stop traffic. However by the fourth time crossing the three bridges I realised I should disclose what no one talks about:
Traffic will transform any special car into the subject of a shitty driving experience.
After two attempts to record the video (my fault), I managed to interview Luke to get an insight into what it takes to install a Tesla charger at home or work.
A few additional points from me for Tesla owners:
If you work in a commercial or industrial building, consider getting a three-phase charger hooked up to your work carpark. Why? Commercial electricity rates are cheaper than residential rates, and you can charge your car much quicker with the higher-powered supply to a commercial property than you could ever get out of a residential supply.
If you know you will be buying a Tesla in the next 10 years (or any electric car for that matter), consider this when purchasing a new home. Some apartments or older houses may have terrible access and make things super expensive or difficult for you in the future.
You can get in touch with Luke from LME electrical here.
My first Tesla supercharging experience

After meeting with Luke, it was time to charge! Your first time supercharging is similar to the first time you speak to a live audience — you know what to do but for some reason, you feel like an imposter until you've done it a few times.
There are two supercharging locations in Sydney. One at the Tesla dealership on the north side of the Harbour Bridge and the other is at The Star casino. The location of The Star is relatively easy to get to when you know your way around Sydney. The five minutes driving before you reach the supercharger will probably be the most frustrating you've experienced for anyone who doesn't regularly drive in Sydney and understand which roads and lanes lead you in the right direction. The highly intelligent Tesla navigation isn't going to save you from silly Sydney drivers.
When you arrive it's just a matter of following the signs and buzzing the intercom to begin your one-hour session. One of the annoying things about this location is how tight all of the carpark corners are. It's essentially built for valet parking where the valet drives the same corners 30 times in a day. Given that I didn't want to scrape a rim, I had to get out of my car just to reach the intercom button. When it was time to exit, I needed to do a three-point-turn at the exit gate.
As I was down to my final 12%/62km and I only had an hour before needing to leave the carpark, I gained another 66% of battery capacity within 50 minutes. Leaving with 78% was comfortable to continue the day, however I'd need a bit more to get up to the Hunter Valley that evening.
As I didn't have a powerpoint in my apartment garage, I returned to the Supercharger a few hours later to top up. Whilst you are able to leave and come back into the supercharger at The Star, the parking situation is so brain-consuming it seemed easier to come back as needed.
Later that evening, I picked up my wife and travelled the two hours and 160km up to the Grand Mercure in the wine region north of Sydney. We chose this location as a premiere Destination Charging accommodation in the Hunter Valley. Whilst there are some other places to charge, this was one of the only places to spend a night.
The Grand Mercure did not disappoint. Our accommodation was bigger than our apartment in Sydney and the facilities were every bit as comforting after a long day.
Day 3

Waking up to the smell of vineyards, coffee, and a freshly groomed golf course, we checked the Tesla and discovered the full twelve hours on charge brought her up to 100%. My first full battery since picking up the car!


After a quick bite in the clubhouse, we set off towards the coastal town of Newcastle. I was meeting Dainis from Black Lion Digital, an entrepreneur who has recently become a Tesla owner in the last year. It was a meandering conversation as we drove around Newcastle talking about Tesla, entrepreneurship and life. Dainis was a pleasure to talk with and his passion to lift up those around him was infectious.
On the way back to Sydney, we found ourselves in the worst traffic I've experienced in a long time. To say it was painful would be a gross understatement. Unbearable would be nudging closer.
This would be the second time in 36 hours where I realised that there are diminishing returns to comfort and luxury when you're trapped in chaos. A little bit more comfortable than a Hyundai Getz is a big deal. However it probably tops out around the entry-level Audi or Volvo before the extra pleasantries of a luxury car don't make the experience any more comforting.
Shaking off the lethargy, I dropped my wife home and headed to the casino for some more charge before heading out for a planned night-run with the folks at ZoomSpeed. You see, I don't gamble. At all. So the Casino was a bit of a boring place for me to wait for the car to charge. I would have preferred Sydney CBD where I could go for a wander around the shopping district.


I made the best of the situation when I discovered a pop-up Singaporean Hawker stall in the food court below the Star. I bought myself the Redhill Market Chicken Rice and I was set for some good recharging time.
Within the hour I met with William, co-founder of the exclusive ZoomSpeed auto club and the luxury experience provider AOMI, and we made our way out to the Old Pacific Highway on the outskirts of Sydney's northern suburbs.
Saving face with Supercars

The Old Pacific Highway is famous for drivers and motorcyclists to stretch their legs and enjoy outstanding twisty roads with limited traffic. We met with the rest of the ZoomSpeed drivers for the night, featuring an impressive line-up of Mercedes-Benz, BMW, Audi and a Lamborghini.
The Tesla did not look out of place. In fact, many of the drivers who were owners of cars that I dream of driving one day were more than happy to admire and genuinely show interest in the Tesla's capabilities. The Model S fits in with car enthusiasts.
Whilst the Model S kept up with the crowd, it was noticeable that the cornering performance was fatigued by the weight of the car. I did my best, but couldn't drive the Model S to its full potential; it was a media car after all.
Returning home on midnight, it was the end of another huge day getting to know the Model S. Our acquaintanceship was beginning to feel closer to that of family rather than friend.
Day 4 – Final day with the Model S
At this point, my wife realised that she was the third wheel during my week of lust with the Model S. Whilst this consequence wasn't intended, my fourteen-hour days with the car were as tiring for me as my absence from her. I was down to my final eight hours. I had to see this through.
On the final day we planned to record a 360-degree video from within the Model S with two good friends, Jamie founder of Flying Machine Films, and Iz founder of SourceCraft Developer Network. We drove around Sydney and talked about technology and entrepreneurship, among other things. Hanging out with two awesome friends was the relaxing end to my hectic week with the Model S.
Before dropping back to Tesla I met with Pia, founder of Evoke — a Sydney based luxury chauffeur service that…
Strives to surprise, delight and exceed your expectations
I like the sound of that!
Pia was introduced to me by William from AOMI who I drove with the night before (how is this guy so well-connected?). I was so humbled to hear their story using the Tesla Model S as the catalyst to provide a zero-emission chauffeur service. Demand is strong for the Tesla experience and they have expanded from just a single car in May 2015, through to adding additional cars at a rate of nearly one per month from September onwards. They also have a Model X coming soon.
Aside from being chauffeured in a pretty remarkable car, one of the characteristics I love about their business model is their On-time Performance Guarantee. If they're not at your doorstep for the time you requested, you won't pay a cent. That's accountability to talk about.
Book your ride in an Evoke Tesla Model S here.
The sad return
When all was said and done, I returned the car to Tesla. Armed with hours of video, audio, many photos, and clashing of real memories and dreams in the few hours of sleep, it took me several weeks to internalise how special that week was for me. Alas, the Model S is not a car I'll be buying. I wrote about this more in my first Tesla article. However my $1500 deposit on the Model 3 felt to be the smartest prepayment I've ever made.
Love renting unique cars?
We rarely send email, but when we do it is full of the juiciest tips and tricks on discovering unique car rentals.
You've already subscribed! Want to get in touch? Send us an email at
[email protected]
Enjoyed this post?
Why not subscribe and join the occasional Ride Hacks newsletter?
Subscribe