Mishaps at Hertz Melbourne Airport
Porsche Cayman Review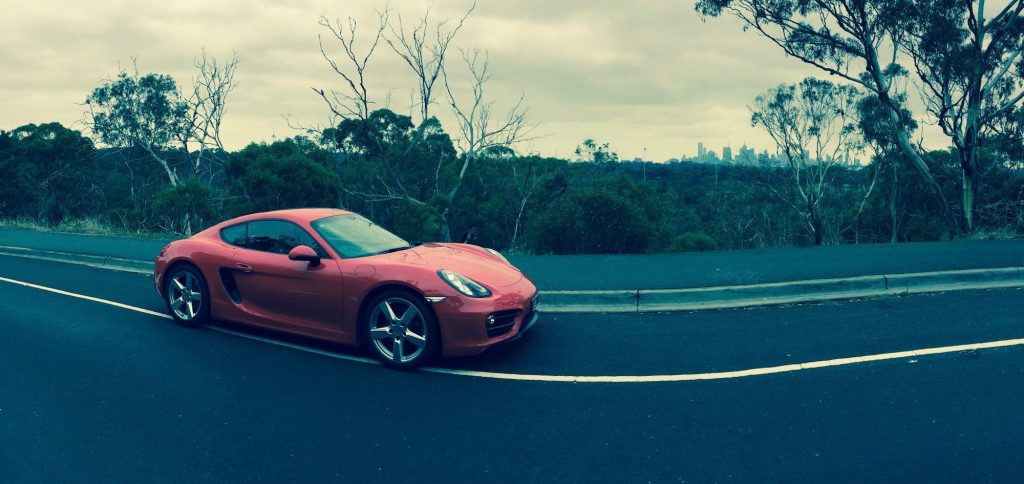 Tuesday morning, the end of Chinese New Year, Melbourne airport. Which was the lead domino that led us to manically driving a guards red Hertz Porsche Cayman back to the airport 23 hours and 29 minutes later?
It all started with a Europcar booking.
You see, there is a quirk of Europcar's guaranteed availability. Whilst it's pleasant that they guarantee your car instead of their infamous switcharoos, their process for confirmation isn't the smoothest.
As an Etihad Gold member and an Accor Platinum member, I have a 15% discount on any Europcar rentals booking through either deal page (Etihad here and Accor here). However, these sites are relatively new. The previous version, where I originally booked, was what they call a microsite — an old and clunky booking interface. Long story short, I apparently entered the wrong email during booking.
With guaranteed or low-availability Europcar vehicles, you receive a confirmation on screen that looks like this:

You will also receive an email confirmation that looks like this:
However the problem is that with the wrong email entered (no idea how this could have happened…) you won't receive that second email confirmation. Therefore the last message you remember is that the vehicle is confirmed unless they email you and tell you otherwise.
Lesson learned for my fat fingers.
Why was I in Melbourne?
As the Data Guy over at Point Hacks, Keith invited me to Melbourne to help him present some of our recent audience insights from his community.
The deal was that he would pay for my flight and hotel room and I'd sort out the car. After all, that is a fair division of labour based on our relative skills and experience. Clearly, I wanted to hold up my end of the bargain. But I couldn't lose face and drive us into Melbourne City in a Nissan Micra.
In true Point Hacks style, we upgraded our economy tickets to business on the new Qantas Domestic Business Class. It was an outstanding product and definitely worth the 10,000 points to upgrade our Sydney – Melbourne flight.
Arriving in Melbourne airport, notably cooler than Sydney for mid-summer, we traversed the pathways towards the rental car office. This is what it looked like on the outside:
Keith reminded me:
Don't worry, you have status. Just walk around the back into the car park and speak to them there.
Thanks for the tip Keith. We commented that those status holders who weren't aware of this benefit would have lined up for an hour behind the tens of Chinese visitors (Chinese New Year…remember) only to find out that they didn't need to line up at all.
When we arrived in the Europcar pickup spot, we saw the Mercedes-Benz CLA200 that was destined to be ours. It looked beautiful. As a new model for Mercedes, the CLA looks to be worth twice its $56k price tag.
The next few minutes were a bit of a haze, but it went something like this:
The car wasn't available and they sent me an email telling me this earlier in the week (remember the wrong email address?).
A bit bummed out, we decided perhaps an Uber would be fine to take us around for the next twenty-four hours. Agreed.
Whilst walking back to the Airport Limo pickup area we saw a bright guards red Porsche Cayman
Half-jokingly, yet deadly serious, I uttered:
Gee, we should just take the Porsche huh?
In true Ride Hacks style, we did.
Hertz Melbourne Airport Pickup and Dropoff
I typically write these reviews in a somewhat chronological order. This story will be different. I'll piece together the pickup and dropoff and the fill in what happened in-between.
Ready?
I love airports. I hate airport car rental.
It sucks, it really does. My first experience was in my Hertz Audi Q7 review. Unfortunate for us, it turns out that hiring a Hertz Porsche meant a new layer of complexity, slowness, and disorganisation.
Uncharacteristic of their typical customer, we walked into the Hertz office and simply said:
Hey can we hire the Porsche out the front?
Perhaps it was his vacant stare, or maybe the drowning adrenaline as I casually took out the Amex Platinum card and placed it on the counter. The guy behind the counter clearly wasn't ready for this at 11:30am. With much back and fourth between his colleagues, they determined that they couldn't book me the car and needed to call the Hertz sales line to make the booking. So they called.
When that was all done, I had the option of reducing the first of these four damage excesses:
Base excess of $8250
Single Vehicle Accident excess of $2420
$2000 for windscreen damage
$500 per occurrence of damage to any wheel or tyre
As I detailed in my Ultimate Guide to Rental Insurance, I always use my American Express Platinum card for its $125,000 coverage whilst I'm travelling further than 150km from my home. Considering that Amex was going to pick up the bill (the entire bill) if something unlucky was to happen, I declined their $8250 to $2500 reduction for $66 per day.
Skip to the next section for details of what we did in our next 24-hours with the car.
When we dropped the Cayman back to Hertz Melbourne Airport, we were late. Very late. In fact, with Hertz you only have 29 minutes before they charge you for another half-day and 59 minutes before another full-day. We also didn't leave enough time to fill up the thirsty 2.6L naturally aspirated engine. What a predicament.
The Porsche Cayman daily hire rate was $330. The $165 at risk for being more than 29 minutes late was too high compared to $3.87 per litre for excess fuel.
Rental companies charge based on 1/8ths of a tank. As the Cayman's 64L tank was 7/8 full, I was expecting a charge of 8L @ $3.87/L ~ $30.96 extra on the invoice. That's exactly what I paid.
We made it back in time without fuel and without an extra half-day rental — on the 29th minute. As we handed the keys back, chuffed with our extraordinary driving skills and bond-link precision of timing, we were told that someone saw us smoking in the car.
What?
I was quick to point out to the Hertz customer service attendant,
Neither of us smoke. Clearly there's been a mistake.
I was convincing and she believed me. So she asked her colleague clarification on what to do next. Her colleague replied,
If there is a note there, just charge them.
We weren't going to have any of this. Neither of us smokes and there was no evidence besides 'someone saw it'. We asked them to call that 'someone' and to answer as to why they wrote this note onto our account.
He didn't answer his phone. Twice.
Meanwhile the manager took the noble path and smelt the clean car we just returned. He noted upon his return,
I can't smell anything. It's a mistake, don't charge them.
They tried to apologetically explain that it's likely this mysterious person, who writes nasty notes and doesn't answer their phone, saw someone in another of their Porsche Caymans. Little did they know that the first person we spoke to confirmed that they only have one Porsche Cayman in Melbourne.
When the car was returned, we made it to the security check and Keith realised that he left his laptop in the Porsche. He wasn't happy.
See you next time Melbourne.
The Porsche Cayman

I originally reviewed the Hertz Porsche Cayman back in November 2015 (read the review here). Whilst there were similarities in the car, the experience was not the same. (Hint: they never are)
What I loved
The sound. (Oh gosh, the sound is good!)
The look. Felt good rocking up at the Sheraton
The gearbox. Who doesn't need a Doppelkupplung in their life?
For the sound, check this video of the Boxster S. It's very similar.
What I hated
A bit too underpowered. Or specifically, 'under-torqued'
The seats had no support. Need to upgrade to 'Sport Seats Plus'
The navigation sucked.
The navigation is an interesting one. I previously really enjoyed the Porsche media and navigation system. This one was a dog.
Now now, I want to give it the benefit of the doubt. That is, it's likely that somewhere deep in the settings, someone chose to turn off tolls and motorways for all navigation. Which would explain why the GPS continually took us on the longest routes with the most traffic. But there were several occasions when it simply positioned us somewhere off the road with no sense of direction. Considering how late we were at the end of the journey, this was a sore point that stuck.

Adventures in Melbourne
Upon picking up the Cayman from the airport, we were late for a meeting in the city. This also happened to be the day that Telstra had their first country-wide outage. Keith couldn't make contact with our host to let him know we were running behind time.
As we arrived onto the nominated street in Melbourne CBD, Keith proclaimed,
This is the right street, let's find a park.
So we did.
We then found out how long streets are in Melbourne compared to Sydney. We walked about 15-minutes to our meeting location, all without any mobile reception to call our host. Whilst my Optus phone was working fine, the number we were calling was also on the Telstra network. #TelstraOutage Fail.
When the meeting finished, I was heading off to meet Anthony from Ultimate Driving Tours to learn about their upcoming release of supercar tours around Europe. I highly recommend checking them out.
Melbourne's parking meters, whilst cheaper, don't commonly take credit cards. That's annoying. Who carries coins? It also sucks that I had to ask Anthony for a few coins. As a true gentleman, he was more than happy to help out a lad in a Porsche. The embarrassment of asking someone for money before you shake their hand is not the worst part.
An hour past.
We were part-way through coffee and talking about the future of Ride Hacks. I look over my shoulder and there is a parking inspector in front of the Porsche. Ugh!
Yes, he chooses to ticket the bright red Porsche before checking any of the other cars.
I tried to get up and run down to reason with the inspector. He had already processed the ticket before I made it to him. At that point, there was nothing I could do.
With the slightest condolence he offered a few words of parting wisdom:
Feel free to park here as long as you want now you have the ticket. I won't book you again.
Thanks mate.
Trip Roundup
Whilst it was a good trip from a business perspective (Keith tells me), nothing went as expected in our travel planning. But we had fun. It was care-free and each new challenge was met with a few extra shrugs.
Twenty-four hours later we were holding a beer in the Qantas lounge,
That was…unexpected.
Love renting unique cars?
We rarely send email, but when we do it is full of the juiciest tips and tricks on discovering unique car rentals.
You've already subscribed! Want to get in touch? Send us an email at
[email protected]
Enjoyed this post?
Why not subscribe and join the occasional Ride Hacks newsletter?
Subscribe