Hertz Porsche Cayman Review
Why you should hire the slowest Porsche you can buy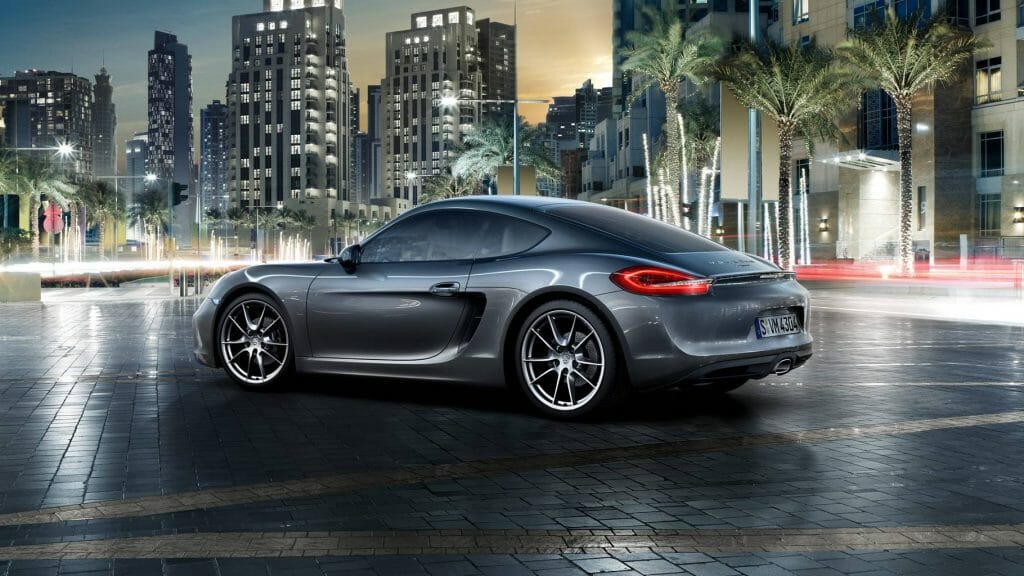 Hello Mr Heslin, this is Karen from Hertz.
[Small talk]
I realise you have a booking of the Porsche Cayman on the 5th of December. Unfortunately the car is no longer available. Could we try another day?
Only a few days earlier, I opened my email and received an offer from Hertz that seemed like the perfect opportunity: 20% off Hertz rentals for the month of November.
In researching this deal that I quickly realised that there was absolutely no availability of the two Porsche Caymans they had in Sydney during the offer period.
Seemed like bait and switch to me, but instead of whinging, I booked in the car for December to secure a review for the Ride Hacks readers.
When the call came through, I imagined that my goal of reviewing the Porsche Cayman would be pushed into 2016. But then Karen asked in a polite, yet somewhat telesales tone (she is better at customer service than sales):
We have one sitting in the city washed and ready to go if you want to take it today.
Naturally, I had the upper hand now. Although they needed to find another time to sit me jump in the Cayman, they had excess inventory burning $350 per day unless I agreed to take the car today. Without sounding like an American used car salesman (you can hear the voice), I responded with:
Karen, I know the rate I was provided was for the weekend. I assume it would be a bit cheaper during the week right?
I didn't have the heart to tell her about her opportunity cost to the tune of $350 per day. She sounded so…kind. It would have been like smirking while taking a kid with training wheels onto a plank obstacle course. She took my comment onboard, checked with her boss and called back to confirm that she could discount the usual $300 daily rate to $250. Negotiation was done for me, I took the deal.
Hertz Cayman Pickup
With Karen's offer of a $250 daily base rate, I agreed to picking up the Porsche Cayman at 5pm the same day. In fact, I didn't actually know what the final price would be. Hertz, along with all other traditional rental car companies, have a range of extra costs on top of their day rate, and then you have GST.
My bill looked like this:
As I previously wrote in my review of the Hertz Audi A3, one of the brilliant things about the Hertz in William St, Darlinghurst (considered 'Sydney Downtown') is that they have a motorcycle parking at the doorstep of the pickup location.
Leaving my bike there for a day or two won't yield a $97 thank-you-City-of-Sydney fine. Even when I rented out the Europcar Mercedes-Benz SLK200 up the road, I decided it would be smart to park at this motorcycle parking spot in front of Hertz.
With the bike parked, I walked into the Hertz office ready to jump the queue with my Hertz Gold Rewards access. As no one else in the office, my strut smoothly transformed into a nerdy walk as I approached the counter.
Skye helped me with the paperwork and provided the kind of reassuring customer service experience that someone needs who was about to sign away for the most expensive rental he has ever paid for. It turns out that there are extra terms and conditions that come along with the Hertz Porsche rentals. Here is the gist:
Drivers must be older than 25 years old and hold a full driver's license.
Hertz has a vehicle monitoring system installed in the car and tracks location, distance and speed.
The car has a daily km limit of 150km per day with $1.00 charged per extra km.
Porsche Roadside Assistance will help you out if you break down.
Must refill the vehicle with premium unleaded, and if you don't, you're responsible. (I chose 98-octane but 95 would be fine)
All weekend rentals must begin on a Friday, Saturday or Sunday and last a minimum of three days.
The Porsche isn't eligible for one-way rentals. If you don't return it to the same location, a $2000 admin fee applies.
Of course, I signed the additional terms and collected my keys. However the two surprising points that caught my eye were:
They track the car, including the speed.
Weekends are three days minimum.
The first is an interesting point indeed. Although I couldn't find anything written in any of the terms and conditions specified, I would be a little worried if I was subject to a high-speed accident. Particularly when it comes to insurance. As with most insurance policies, if you're breaking the law they won't cover you.
I must stress that there was no evidence that insurance cover would cease when you speed over the limit, however just keep this in mind before trying to reach 200km/h.
Read my comprehensive guide on car rental insurance here.
The second point about weekend rentals proved to not be enforced very strongly — my original booking was a Thursday for one day. However this could explain why availability was scarce on weekends through the online booking engine. In the hope that I had finally figured out the Hertz booking engine (read about my struggles in the Ultimate Hertz Guide here), I still found that booking three-day minimum in Sydney locations showed the Cayman as 'Call To Book'.
With my signed rental papers in hand, I was ready to see my car for the next 24 hours. Here is what I found:
For the first time in my life, my damage check experience was outstanding. The customer service attendant was a young lady who took the time to be absolutely fastidious about checking every part of the car and volunteering to mark it on the damage report. The reality was, the car was fricken' Mickey Mouse condition for the 21,314km on the clock.
This was a contrast to the slightly annoying process when I picked up a red Cayman at Melbourne Airport a few months later.
That's right, this car had travelled more distance than every other car I've hired and reviewed. My guess is that they purchased it second-hand as a trade-in. But in the rare chance that they actually made their $350 (average) per 150km, this car would have been through 140 rental days yielding $49,000 to Hertz.
Back to the damage check, there really were no issues with the car aside from the slightest wear and tear that would be expected for a car with this life span. Yet, this is what my Hertz friend managed to outline for me:
As I turned the key on the six-cylinder boxer engine, the Cayman's exhaust-note burbled in the garage drowning out any notion of conversation — replaced with a moment of pause and admiration from the Hertz car wash employees. I took that moment to post another photo on Instagram (@ridehacks) and, like a Leopard stalking her prey, I advanced towards the car with the inevitability that this day was just meant to be.
And it was.
Porsche hire in Sydney – Just for one day!
As a product of luck rather than careful planning, we had previously arranged to see the latest 007 Bond film in the Sydney CBD Event Cinemas' Gold Class that same evening. It wasn't the quintessential Aston Martin, but I was thrilled to drive the Cayman into the city for our Gold Class experience. As it was a late film, driving back home through the city after midnight was a magical experience – no traffic, the exhaust echoing against empty buildings, and a warm summer's breeze.
I don't know if Bond ever would come to Sydney, but he would have been jealous of this moment.
Waking up the following day, we decided to take the route down through the Australian Royal National Park to Scarborough Pub for lunch. Despite choosing a weekday over a weekend, this incredible drive could have easily been ruined by slow drivers who refuse to pull over or let you pass.
Call it unawareness, ignorance, or tall poppy syndrome — it sucks.
I also made the mistake of entering the national park at the top near Loftus, towards Audley. Whilst this is a picturesque drive, the roads aren't that great until you reach the intersection with The McKell Ave, which could have been entered via the F5 motorway at Waterfall. I'd definitely recommend this alteration to the route.
Click here to check out the route I've created in Google My Maps.
The drive back was taking the shortest distance home, with exception for a few km on the old Princes Highway for some quite and twisty corners.
Hertz Cayman Driving Experience
I'm going to burst the proverbial bubble in an effort to downplay the petrol heads ready to pounce. The standard Porsche Cayman is not a very fast, nor powerful car.
In fact, it's only just 7kW more powerful than the $130/day-unlimited km 195kW Renault Mégane R.S Cup. But you'll need to get to 7700rpm in the Cayman to reach this power, whereas the Mégane only needs 5000rpm. The 2.7L naturally aspirated Cayman produces 290Nm of torque at 6500rpm where the 2.0L turbocharged Mégane comfortably pushes out 360Nm at only 3000rpm. This is a huge difference.
What does this mean? If you want a fast car, hire out the Hertz Mégane. If you want to impress someone special and feel the deep visceral connection to the tarmac, you can't beat the Porsche.
The sound of the Porsche will knock your socks off and have you asking for more.
A Driver's Car is more than simply maximising G-force, acceleration, top speed, and the ability to do power slides. These are fun, but cheap thrills can always be outdone by a faster car, a motorcycle or a track day.
What makes the Porsche Cayman driving experience special is that underneath the modest mid-mounted engine is a car that will excite your passion for driving. Driving experiences is something I wrote further about in my review of the Tesla Model S
What is the Porsche Cayman like to drive?
It's fun. Despite the reviews stating that the electric steering takes away the 'feel' of the front wheels, unless you're a sports car or supercar aficionado, you will feel like you are in control of those front wheels with every slight imperfection on the road. The front-wheel grip during cornering is without a doubt one of the outstanding characteristics of this mid-engine chassis. You point, it turns, you smile.
The other pleasing performance characteristic is the PDK dual-clutch gearbox (or Porsche Doppelkupplung, if you will). The shifts are instant and can be entirely controlled by the traditional gear shift or either your left or right hand on the steering-wheel. That's right, you can shift up and down on both sides of the steering wheel. To be honest, this was a little confusing and I had one moment in second gear when I was looking to gracefully move to third but instead jammed it back into first – almost jumping out of my seat with the roar of the engine at 60km/h in first gear.
Unlike other cars with manual overrides to the automatic gearbox, the Cayman PDK lets you take control and drop a gear to enter a corner and still give you the perfect amount of time to continue controlling the car manually before it switches back into auto mode. I must stress, this switch is incredibly well designed. It held in manual override as long as I subconsciously wanted it to, and switched back to auto at precisely the right moments.
And finally, we have the suspension. It's hard. You will feel every imperfection the road has been hiding from you for all these years. Yet, you can't help but yearn your newfound addiction to the precision of each heated square millimeter of your Pirelli P-Zero 265 rubber.
The car is precise, to say the least. After all, it's German, and it's a Porsche. Driving a mid-engine sports car is truly an experience in itself. In many ways you feel like you are the engine, in complete control of what happens next.
Enough said.
If you want someone more articulate to explain what the Cayman S is like to drive (similar, just more powerful), then here is Chris Harris who never ceases to disappoint me.
Porsche Technology — Pros and Cons
What do you expect for a $120k two-seater car? Perhaps a better question is, what do you expect from a base model Porsche?
In my mind, I was expecting a great driving experience with a lack of attention for interior design and technology. I was mostly wrong.
The word on the street is that the Cayman has been told that she's looking a little bit long in the tooth when it comes to interior technology. From my experience, I felt that the number of gadgets to play with was just about right. The GPS was solid, the Bose 10-speaker (apparently) sound system was precise and the touch screen was better than any other car I've driven.
Update in February 2016: Upon hiring the same Porsche again in Melbourne, I realised that the GPS has some strong limitations. It was essentially useless. To be fair, in my first review, I knew where I was going. I didn't challenge the GPS like I did in Melbourne when we didn't know where to go. Also, the touch screen seemed good in my first review, but still lags behind the Volvo XC60 and Audi Q7 I reviewed later last year.
As it was the hottest day of the year (until being surpassed by the following day), the heated seats were off limits but the air conditioning played its part to keep us from sticking to the seats. Even the adjustability in the standard seats would knock off any other rental car you will find.
It's German. There is what you need, and nothing you don't.
Porsche Design
For the sake of completeness of this review, let me comment on the interior design for a brief moment. The quality of the materials matches the newer Mercedes-Benz classes and you are seated in a way (low and close to the steering wheel) that connects you to the soul of the car. But I have to stop here because there are more words to describe the exterior of this car.
Honestly, I've never really resonated with the Porsche brand. I've always heard good things about them, but the shape never appealed to my need for strong, aggressive lines. When I saw the Cayman that was mine — for 24 hours anyway — I experienced the ecstasy that comes from owning something that you're proud to call your own. Although I had no desire to own a Porsche, the new option to rent one for a day gave me great pleasure as I grinned from ear-to-ear each time I approached with keys in my hand.
In my review of the Europcar Mercedes-Benz SLK-200, I commented that it was an incredibly sexy car. And that's kind of true. In my mind, Mercedes-Benz AMG designs some of the most sought-after cars that enchant anyone who captures a glance (or hears them). The SLK-200 wasn't exactly AMG-material but it was still lust-worthy to drive.
The type of sex-appeal that the Porsche Cayman brings to the party is a bit different. It's definitely more show-ie and that's unfortunately going to cost you sneers and backchat when you live in Australia. Yet, it will turn more heads – not just for the looks, but also the sound. Non-turbo, flat six and a brilliant exhaust note.
Nineteen from twenty people won't know that it's the most underpowered sports car you could buy for $120k. You'll find young hoons willing to race you off the line. Don't do it. Preserve the dream for those watching — those who can appreciate beauty and dream that one day it might be their chance to hire out a Cayman for a day.
Closing thoughts on my Hertz Porsche hire experience
It was not much more than a year ago where the only option to rent out a Porsche was from rental companies like Superfleet Sydney (now in liquidation) who was found guilty of taking $15,000 deposits and return them five months later.
Australia has been plagued with dishonest sports car rental companies, leading to an overwhelming anxiety and despair for European car enthusiasts. Hertz entering the lightweight supercar arena in Australia is huge deal.
Given the increasing demand for prestige, luxury and sports cars, I hope that experiences like I had with my Cayman become commonplace as part of the driving experience menu within this country.
Do yourself a favour and ditch buying something you don't need for the chance to take out the Hertz Porsche Cayman for a day or two. You'll be surprised, but won't regret it.
Love renting unique cars?
We rarely send email, but when we do it is full of the juiciest tips and tricks on discovering unique car rentals.
You've already subscribed! Want to get in touch? Send us an email at
[email protected]
Enjoyed this post?
Why not subscribe and join the occasional Ride Hacks newsletter?
Subscribe