Hertz Prestige | Audi Q7 Review
My love/hate relationship with this $100k SUV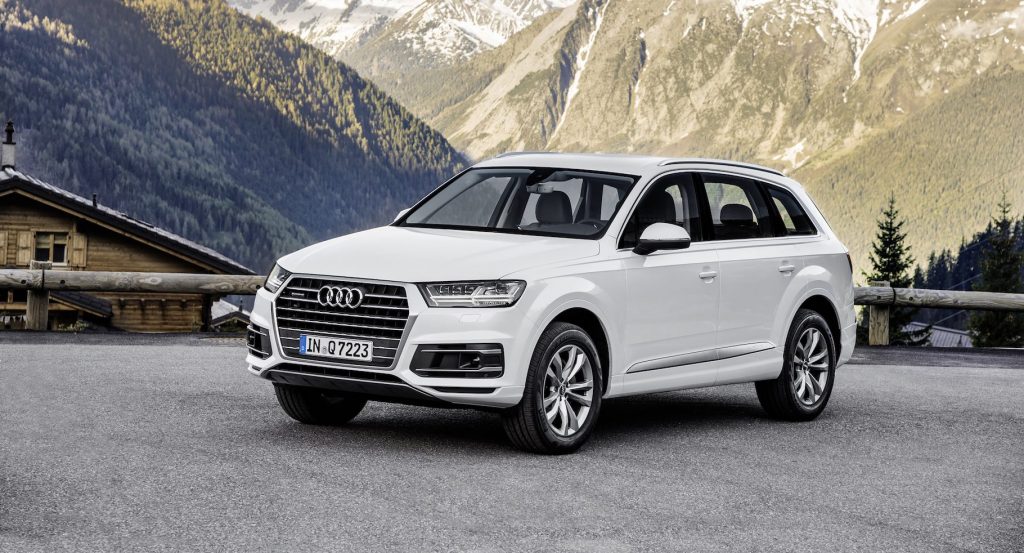 The Uber Black Driver, the Adventurous Executive, the Soccer Mum.
When the Audi designers were selecting their ideal persona to drive the new Audi Q7, I bet they were confused. And, after five days driving the Hertz Audi Q7, covering most types driving you could imagine, this confusion had rubbed off onto me.
Ride Hacks unlocks the driving experiences that you can book this weekend. Whilst this is a review of the Audi Q7, it's equally – and perhaps more so – a review of what it's like to rent the Hertz Audi Q7.
You'll soon understand why this distinction matters.
The Big Idea
Become an Uber Black driver for a day.
I've used Uber since it first arrived on our shores in November 2012. I've used UberX, Uber Taxi (spew), and Uber Black. Using one app, a single credit card and expecting a consistent experience, I've also used Uber in tens of other countries around the world. You might say that I like Uber. You would be right.
So when I had the idea to rent out the Audi Q7 and drive my friends around for a day, I was as excited as a kid on Christmas Eve.
I reached out to my friends on Facebook and in the Sydney Startups Facebook Group. Within a few hours, I had at least eight people somewhat interested in taking me up on my offer of a free Uber Black-esque ride.
All I needed now was a car.
The False Start
This part of the story is important, but I'll keep it brief.
I originally planned to start my rental on the 10th of January. I booked the Audi Q7 on the Hertz website a few days earlier, using a special United Airlines offer of $82 per day for three days, plus another $135 in taxes and surcharges.
As I mentioned in the Ultimate Guide to Hertz, the Audi Q7 is the J5 category of rentals, otherwise referred to as their Standard Prestige SUV. Hertz officially offers one of two vehicles in this category: the Audi Q7, or the BMW X5.
Whilst my understanding was that the BMW X3 and X5 are no longer used (in Sydney anyway), a day before my rental started, I received this text message:
When I clicked through on the link I found this:
Thinking about what the Ride Hacks readers would do, I called Hertz to see if they could help.
Called the airport. No answer.
Called the customer service centre. Long wait, then someone answered.
After much back and forth with the customer service agent, who was very polite, we established that he couldn't confirm the car I would be driving for reasons such as:
Sorry sir, we don't know which cars are out, coming back, or if current customers will extend existing bookings.
I get it, this is a hit and miss game. However, I was very surprised that the customer service team didn't have any inventory insight. Why couldn't this person tell me that the Sydney Airport was expecting to have five J5 cars on the following day, two are on the ground, three are coming back, and one was allocated to me? Oh, and that they were all Audi Q7's?

All I wanted to know is that they only had Q7s scheduled at the airport and it's extremely rare an X5 would show up. No such luck.

Whilst I understand that the current and forecast inventory positions don't guarantee availability, it seems that being completely blind isn't an optimal customer experience.

So I cancelled the booking.

[callout _class="primary"]
Ride Hacks Tip
With 'pay later' bookings, you can cancel at any time up to the point of pickup. You can literally go there, not find the car you want and cancel your booking without any penalty.
[/callout]
Uber Black Rendezvous
A week or so later, I decided to bite the bullet; if I got the BMW X5, whatever. I'll sulk for a few hours, then just deal with it. #firstworldproblems
I reached out to my friends who were all too happy to accept my offer for a free ride, and set my Uber Black schedule. I was to pick-up the Audi Q7 on the 20th January, and keep it for three days — the minimum for the J5. There was also the restriction where the Audi Q7 was only available for pickup from the Airport.
This would be the first time I would travel to the airport in my home city just to rent a car. Here we go!
Hertz Sydney Airport Pickup Process
Unlike normal people, I like spending time at the airport. It's a bowl of charged emotions — excitement, anticipation, sadness. I particularly crave this feeling of excitement — within hours I shall be landing in lands of foreign food, culture and language. This time, however, was different.
Sydney Airport is close to the city — 12Km and 30 minutes driving from my home to be exact. I decided to try public transport for a change. 50 minutes and $19 later, via two busses and the most expensive train per km in Australia, I successfully arrived at the Sydney Domestic Airport.
When I'm heading to the Airport with my wife, Uber is just easier. $40 to $50 in Uber X and $92 for Uber Black. Add one more human and it's cheaper than the train.
After I arrived at the airport and found the Hertz pickup area, I waited in line at the Hertz Gold Plus counter. People were sitting and standing everywhere, it reminded me of my time in India. Everyone looked tired. After all, I was probably the only person who didn't just come off a flight.
After the person in front took ten minutes to complete — for what seemed like a simple pickup (they tried to pay cash) — I was told by the customer service attendant that my name was on 'the board' somewhere and my car is waiting for me in parking bay E12. Clearly, I'm a rookie at the airport. Note to self for next time.
It turns out that this is part of the Hertz express pickup service, and the first I've experienced. When I found the car in the bay, everything was ready to go: keys, paperwork, a clean Audi Q7.
After my damage inspection, I found that the rear left bumper had been slightly damaged and this was already marked on the pickup invoice sitting in a small pouch attached to the rearview mirror. There were several other marks that I found and although they weren't significant enough to call over the pickup attendant, I decided to take photos of them anyway – just in case.
However, I noticed that my pickup invoice had two errors.
Despite booking for 11am till 11am, it noted a pickup start at 10:30am, which meant my three-day booking was now three days and one hour – charged as a four-day booking. Yes, one extra hour means one extra day.
Secondly, they added on the prepaid tolls option to the booking, despite not requesting this on my reservation. At $15 per day, and totalling $60 for three days because of the mistake in the pickup time, I asked a nearby attendant how to remove it from the booking.
Actually, I asked two people.
The first said 'I just clean the cars, you need to go to the office.' 
That meant, joining that queue again. On my way to the office I asked someone who seemed like they had 10% more intellect, he told me that this can be changed at the exit gate. It's amazing what 10% can do.
I jumped back in the car and headed for the gate, queuing for about 10 minutes to leave the car park. One person manned the gate and inspected every car that left. Not the most efficient system by any means. I had him fix up my invoice and I gladly left the airport.
Overall, my pickup experience generally sucked. This is a broken system and it's clear that within the next ten years we will 'uberfy' the airport car rental business. With services like GoGet and Hertz 24/7 where you swipe and go, and even DriveMyCar who have a complimentary pickup service. It must change, and will change.
First impressions of the Audi Q7
It's big. I felt like I was driving a prestige minivan like the ones that drive diplomats around in Asia. It didn't feel like a 4×4, nor did it feel like a prestige sedan. However the sensation was primarily a function of height and length, the width never felt intrusive to the driving experience.
When I say length, I mean that the Audi Q7 is 5086mm long. That is longer than the BMW X5 and X6, Porsche Cayenne, Range Rover and Range Rover Sport, Volvo XC90 and the Toyota LandCruiser. The only car that I found to be longer in the luxury SUV segment is the long-wheel-base Range Rover which is 5,199mm. The Tesla Model X is coming in just shorter at 5036mm.
After you settle into the physics of driving a seven-seater luxury SUV with a five-meter tail, you'll have some time to appreciate the technology underneath your hands. Specifically, the incredible virtual cockpit driving display.
This 12.3" full LCD display is very Tesla-ish. The controls from the steering wheel are quick to figure out and soon you'll be driving with an outstanding 3D map within a glance. This is undoubtedly the most stunning display a non-Tesla driver has ever seen.
On the negative side, I quickly figured out that this base model Audi Q7 didn't have the Bose or Bang & Olufsen 3D surround system, both with a subwoofer. Does this matter? More than you can imagine.
The standard sound system is shit. No elegance of language required here. It simply sucks.
Please, please, if you intend on buying the Audi Q7, pay the $2,775 to upgrade to the Bose system. You could pay $14,850 to upgrade to the B&O, but I'm positive the upgrade to Bose is enough to please most souls.
I'll come back to the features of the car soon. Let's talk Uber.
Day One As An Audi Q7 Uber Black Driver
With a brand-spanking new (2 months old) car, I decided to pick up my friend Iz and head up to Little Manly beach. Traffic on the north side of the Harbour Bridge has previously scarred me with terrible memories. As expected, this time wasn't so different. At least I had good company.
Parking a five-meter SUV near a popular beach isn't for the faint-hearted.
For two reasonably fit guys, we simply parked further away and walked down to the beach. Parking a big car is easy when you realise most people are lazy. However, if you had a young family, I'd imagine this would be a logistical nightmare for a busy beach.
After swimming around like a pair of adolescent whales, I was on the clock to head back to the airport for the second pickup. The Uber driver has flexibility in time, but can never be late.
My second passengers were our previous housemates, Lauren and Steve, arrived from a red-eyed Jetstar flight from Thailand. I picked them up from the pathetic Sydney Domestic Airport pickup spot (international is better) and dropped them home in Rozelle. They'll be expecting their new addition to the family in a few months, so I already felt like I was earning good karma.
The last pickup of the day was James, founder of Prosperity Media – a digital marketing consultancy in Sydney. He was heading home to Sutherland, a 30km and 45min drive from the CBD. With a quick check of Uber Black SUV, this would be a $200 to $250 ride for James.
He liked that it was free.
By 9pm, I was home. Day one complete. Insomnia wasn't my friend this evening, I had to be up at 5:45am to head across the bridge again.
Day Two As An Uber Black Driver
I hate waking up to an alarm. I never set one. Therefore I never set morning meetings. It's the kind of symbiosis that has served me well in my post-startup 'we're all going to die' years.
So when I have to set an alarm to 5:45am and it doesn't involve me waking up to a First Class flight in a few hours, I'm not happy.
My first pickup of the day, at the unpleasant time of 6:30, was Shav. You're probably guessing he either works in construction or is an investment banker. As I don't know many construction workers who would be willing to accept rocking up to work in an Audi Q7, it's likely that Shav is the latter. Poor guy.
Aside from my grumpy morning mood, one of the great things before 7am is the lack of traffic within the city and over the bridges. It only took me fifteen minutes to get from my front door to meet Shav on the other side of the bridge, and less time to get back to the city.
Shav is a great friend, we usually spend hours over many ground coffee beans discussing how the world might be. Fifteen minutes in the car just didn't feel like enough.
This made me wonder. How many Uber drivers miss out on deep conversations simply because of their compressed time? Or perhaps this is why I sometimes get right into a deep global problem with uber drivers. No meandering, straight to opinions.
Next up, I was picking up my friend Mel who has just started China Ambition – an agency helping marketers target Chinese consumers. She was meeting a friend for breakfast in Drummoyne, not far from my home.
As the ridiculous amount of loading zone parking in Sydney CBD doesn't kick in until 7am, I could find a park and wait for her. It turns out that the hotel I parked in front of, right next to her apartment, also existed by the same name three blocks south. I was at one, she was at the other. Ugh. At this point I realised how critical the GPS tracking is for Uber drivers.
Mel was heading back to the city after breakfast. As I had no other pickups in the next two hours, I decided to hang around, get some work done at Bowen Island Bakery and take her back home after the meeting. Now I'm really a chauffeur.
With limited time to take Mel to the city and make it across to Chatswood to pick up Steve from iFLYFlat, otherwise known as The Points Whisperer, I decided that I would pick up Steve first and take them both into the city.
By this time it was 11am and I figured I should get some work done for the day. I drove to my office in Ultimo and looked for a park. And looked, and looked…still no park available. After fifteen minutes of driving in circles without any luck finding parking, I decided to just drive home.
The last pick up for the day was Keith from Point Hacks. He was at the Apple Store in Sydney CBD and needed a lift home to Manly. The dreaded traffic nightmares awaited me.
My Uber career is over.
Midway Review of the Hertz Audi Q7
As my final Uber Black night came to a close, I had completed all the driving I thought necessary to form an opinion about the Hertz Audi Q7. The car was due back on Saturday morning at 11am.
At this point, my wife points out that I had taken everyone else for a drive but we never planned a trip together whilst I had the car. She was right. I was so focused on the review I forgot that I could actually enjoy the car. So I rang Hertz to organise the extension of the Audi for another day. On the call the Hertz customer service agent asked me:
So where would you like to drop the car off at?
Great question! I realised I could also change the drop-off location in the City to avoid the airport.
Interestingly, the they told me there was no surcharge for the 'one-way rental' to the city, but it was $1000 to drop it off in Darling Harbour only a few km away — the branch closest to my home. I obviously chose the city, however when I eventually dropped the car back there was a $25 one-way charge. I didn't bother contesting it, the Airport train would have cost me $19 and a lot more time.
As I was in the process of planning a trip with my wife on Saturday, I thought that I would note a few impressions of the Audi Q7 at this mid-way point in the rental.
What did I think about the Audi Q7 after my Uber driving?
Overall, I wasn't impressed.
Most notably, the seats sucked. They were similar to, if not exactly the same as the seats in the Audi A3 – the entry level to the Audi family.
When you're sitting in a seat for hours-on-end as a chauffeur of a $114k car, you wouldn't expect to be uncomfortable. Little did I expect that the seats in the Europcar Volvo XC60 would be outstandingly better. By a lonnng way.
What did I like? The engine was strong, really strong.
I'm a sucker for torque. Horsepower is nice but the instant 'throw back in seat' experience of a high-torque engine gets me every time. With the Audi Q7 only coming in a single model (thanks to Sam for pointing this out), only the optional upgrades differentiate the vehicles. Every Q7 gets a 3.0L 200kW/600Nm diesel power plant. Whilst it's not a dual-clutch transmission, it's not needed for the oiler and well-suited for this car.
Another delight was the navigation system. Navigation is the most important tool as an Uber driver and the road tripper. The new Audi Q7 absolutely nails it. More on this soon.
Audi Q7 On A Road Trip
If you were to hire an Audi Q7 from Hertz, there is a good chance that you are going on a road trip with your friends or family. It's less likely that you will pretending to be an Uber driver, like me.
So, in the spirit of being in touch with the real world, I suggested to my wife that we would take a road trip from our home in Balmain to Wisemans Ferry in the most northern part of Sydney (if you could still call it Sydney).
Looking at the map above, I expected that the navigation would take me on the lighter blue line — what you could call a 'direct route'. No, it didn't.
It wasn't until later when I realised that the destination I set in the GPS was the North side of the Hawkesbury River. Although there is a car ferry that takes you across either river crossing, the Audi GPS system couldn't work out any other way to get to the north side except for taking the long way around. That's 131km instead of 79km!
Alas, we had a relatively boring drive up to Peats Ridge and then a fantastic drive for the rest of the journey down Wisemans Ferry road, meandering the Hawkesbury river until we made it to the ferry.
In the twisty, loose and wet corners along the river, the Q7 felt planted and significantly more fun than sportier cars for this type of road. Unlike Germany, Australia has a lot of fantastic roads that are poorly looked after (for driving). The Q7 was born to travel. With Dynamic mode active, the steering becomes more direct and the engine becomes more responsive and, well…dynamic.
At this point I realised what the Audi designers intended for the Q7.
We stopped for lunch at the Wisemans Ferry Inn just as the skies were opening up, much to the dismay of the motorcyclists and cyclists who started their day with sunshine.
After lunch, we took the Webbs Creek Ferry north onto St Albans road and doubled-back on Settlers road, including 15km of dirt road, which technically voids the insurance coverage under the Hertz agreement for that section of road. Whoops.
We've just published our Ride Hacks Ultimate Insurance Guide. Get it here.
This is where the Audi Q7 really surprised me. I've done some pretty intense 4X4 when I was younger and I regularly ride my adventure motorcycle off-road. Whilst this wasn't hard or technical driving by any means, the Audi Q7 finally felt at home — much more than in the city.
You see, the Q7 is a relatively capable all-wheel drive SUV. Whilst it's not a serious 4×4 like the Range Rover or LandCruiser, it supports an 'off road' mode utilising the standard quattro all-wheel drive technology supported by a ground clearance of 204mm. An optional air suspension apparently lifts this further – up to 235mm, but that will set you back an additional $4,950.
As we drove back home, I reflected on the Q7's performance on the quintessential Australian road trip — windy roads, pot holes, unsealed roads, both hot then rainy etc. This seems to be what it was made for.
In good spirits and on a roll, we decided to extend the rental by another day and try some highway driving down the Hume Highway to Bowral, NSW.
Extending The Hertz Rental
Hertz were closed when I rang at 6pm on Saturday evening. The instruction was to call back the following morning. As the car needed to be returned at 11am, I needed to find out if we could extend the rental for a total of five days early in the morning.
Remember what I told you about waking up to alarms?
I called Hertz at 9am. In the first of several confusing conversations, the first person told me that they would have to check if the extension was available because it was a prestige vehicle. She was going to fax (really?) a form to the Airport branch and they would call me. They never called.
At 10am I called back to confirm what was going on. I expressed my concern — I needed to know sooner than later otherwise I would be charged for dropping the vehicle off late. At this point the customer service agent told me that you never need to tell them about dropping it off late, they just fix up the rental period when you return it. Whenever that may be. Confusing.
I didn't trust the whole 'drop it back when you want' approach. It leaves too much risk on the table. So I requested that the booking was changed and I needed an acknowledgement that all was okay for another day rental. She confirmed, all was good. (I hoped.)
Remember how I told you about the uncomfortable seats? When we woke up on Sunday morning after a day's driving to Wisemans Ferry, we were sore. Very sore. I've never had this type of pain and discomfort from driving before, and I have driven a lot. This wasn't just back/neck/shoulder pain from being a driver, my wife also had the same.
To this end, setting off on the 230km round trip to Bowral, avoiding tolls of course, didn't seem like the most exciting prospect. At the moment when the Hertz customer service representative told me that I had the car for another day, my heart sank. I kind of didn't feel like driving another painful day.
For the first time in Ride Hacks, I felt like driving might be a painful experience. This isn't a good thing for the Audi Q7.
Overall, the drive was fine. We weren't that sore at the end, and had a nice time walking around Bowral. But to this end, I'm confident to recommend that with standard seats installed, the Audi Q7 is not a comfortable car for long trips. Do yourself a favour and upgrade the seats
---
What's the Audi Q7 Like To Drive?
I love the engine in the Audi Q7. It's infectious.
Truthfully, if you're not in Dynamic mode, there is a notable lag when you put your foot down. This can be a little scary on intersections when you're crossing double lanes of traffic.
Dynamic mode was my favourite during the rental. The steering is more precise, the engine holds within peak torque (1500-3000rpm) and hurling two tonnes to 100km/h in 6.5 seconds makes you feel like Thor.
As a side note, if you have wondered how it's possible to test any car in a 0-100km/h without losing your licence, use a roadside stop on the intercity motorways such as the M31 Hume Highway or M1 Pacific Motorway. You need to get to 110km/h anyway; how fast you get there is uncontested.
The Audi Q7 isn't by any means a sporty car. As I mentioned in the previous section, the best drive comes from windy, rough roads where the 19" wheels and 55% profile soak up the bumps and potholes. Add some snow, unsealed roads, water crossings, and you will find the Audi Q7 to be right at home. Just don't do this with the Hertz rental car, damage will cost you $100k!
On the fuel economy front, the 3.0L diesel averaged 8.9L/100km with the mix of the worst city driving and 400km of easy highway driving — probably split 50:50 on this journey. Compared to the 3.0L petrol engine in the Volvo XC60 averaging 18L/100km, the diesel wins hands down.
How does the Audi Q7 compare to its rivals?
Audi Design & Style In the Q7
You've heard me bash the level of (dis)comfort in the standard seats in the base model Audi Q7. And I whinged about the sound system compared to the entry level A3's sound system. And with all this aside, now for the good stuff.
The Hertz Audi Q7 comes with seven seats. The front five seats have ample room and the rear two are clearly for kids. Don't plan on hiring one of these cars to take six mates to the snow. Leave the rear as boot space.
The Audi Q7 is a respectable looking luxury SUV. The car I had was silver, yet I spotted a black model with upgraded 'contrasting grey' wheels on our drive back from Bowral. This looked pleasing on the eye. Not quite sexy, but closer to the Range Rover's get the hell out of my way stature.
The interior doesn't feel luxurious. Once again, if you opt for the leather package ($3,800), ambient lighting package ($1,380), and panoramic glass roof ($4,250), then you're getting close to playing with the big boys.
With the right upgrades, this car transforms from feeling like an entry-level SUV with a huge price tag, to a reasonable contender in the luxury SUV market.
Must Have Upgrades In The Audi Q7
There are two upgrades that turn the Audi Q7 into a reasonable car:
Sport front seats upholstered in Valcona leather ($2,300)
BOSE 3D Sound System ($2,775)
If you want to throw some extra money into it, you could upgrade the seats again to 'Individual contour' seats for $6,700, the sound system to Bang & Olufsen for $14,850, and throw on a panoramic roof for $4,250.
Oh, and you will need to add the luxury car tax on these prices.
The obvious question then becomes, could you consider a Range Rover Sport or Porsche Cayenne?
I'll stick to renting for now.
Audi Q7 Virtual Cockpit and Technology
Aside from the engine, the most outstanding feature of the Audi Q7 is the virtual cockpit. It is truly outstanding. Within a few minutes I was comfortable with the steering-wheel controls and often left the full 12.3" map as the primary view.
Putting aside the lack of sound quality, the entertainment system earned bonus points from two USB ports for charging and playing media, a reasonable centre display, and a very groovy touch pad that lets you write the letters of your destination – letter by letter – and it will guess where you want to go. It was surprisingly accurate.
The driving modes make a lot of difference when it came to engine performance and steering, however you really need to upgrade other parts of the car – e.g. dynamic air suspension for it to be most useful. You could think of Dynamic as 'Sport' and Offroad as 'less computer control', but that was about it.
Although this particular car is listed on the Apple website to have Apple CarPlay – something I was incredibly excited about trying…it never seemed to work. I suspect it's a firmware upgrade required to enable the function.
I thought perhaps messing around with Audi MMI connect app could be interesting. I setup an online account, registered the VIN number to my account (I'm guessing this isn't ideal for a rental car), and tried to connect my phone. I gave up after 20 minutes. It seemed that these features were half-baked and an afterthought for Audi.
I'm sure that you could make it work if it was your car, but it didn't seem to have any significant benefit for a rental.
And finally for technology, there are a bunch of safety features that I could list off. You can read about them in Youtube reviews, however there was nothing that caught my eye. I felt safe, maybe that's all that matters.
Final Thoughts
As I round up this epic story of driving like an Uber driver, taking an Australian road trip, and thoroughly evaluating the Audi Q7, here are my parting thoughts.
The Audi Q7 is a reasonable car. You will definitely want one if you're an Audi fanboy and have a big (or growing) family. Alas, this may not be the ideal car for you if you only fit into one of these categories.
Let's assume you are a potential buyer. In the base model will likely disappoint you after the outstanding 'virtual cockpit' becomes normal. However, with a couple of upgrades and $5,000 later, you will find that you have an enjoyable car that will handle any road conditions you throw at it. I really wish I drove this upgraded car. I assume many of the motoring journalists did.
The Audi Q7 has the foundations of an outstanding car: a powerful diesel engine, solid base technology, extensive capability and plenty of useable room. Just don't believe the ticket price when you see it. Or worse, don't stretch yourself just to buy an Audi Q7 if you can't bare to option it up.
Rent one, and hand it back.
You can rent the Hertz Audi Q7 here →
As a rental car, you may otherwise consider a mini-van or Land Cruiser for a family-packed holiday. Generally, I'll prefer the European varieties but I'm unlikely to opt for the Audi Q7 again. From a size, economy and performance perspective, it beats the Hertz Audi Q5 which is only provided as a 2.0L petrol (read the review of the Hertz 24/7 Audi Q5 here).
Perhaps, as a shock to my younger self, I would be quick to head over to Europcar and get my hands on the Volvo XC60 again. They don't have the XC90 yet, so you would have to downgrade on space for the convenience of European comfort. But ask for comfort and thou shall receive.
Audi has undoubtedly made significant inroads within the Australian rental market. You can read all my Audi reviews here. I feel I'm now well-versed to express that the Hertz Audi Q7 may be a reasonable car for your next rental, although it might just be a once-in-a-lifetime driving experience. By choice.
Now you see why I feel confused about the Hertz Audi Q7.
Love renting unique cars?
We rarely send email, but when we do it is full of the juiciest tips and tricks on discovering unique car rentals.
You've already subscribed! Want to get in touch? Send us an email at
[email protected]
Enjoyed this post?
Why not subscribe and join the occasional Ride Hacks newsletter?
Subscribe