The new Hertz Audi A4
In reply to Europcar's Mercedes-Benz C-Class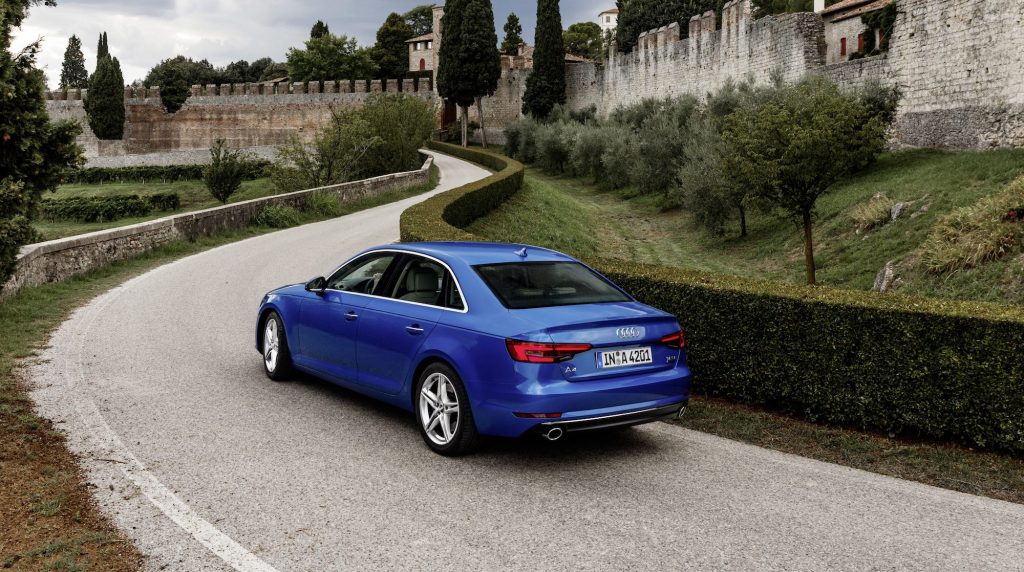 What's the secret strategy of first-class flyers? It's easy. One credit card as your everyday points earner, and a rotating assortment of opportunistic cards for their signup bonuses. It's a vanilla strategy among circles of travel hackers. Car rental is somewhat similar.
Every avid car renter who gives a damn about their driving experience needs to have their vanilla strategy and their opportunistic strategy. This post is about your vanilla strategy, the upgrade to the new Hertz Audi A4, my upgrade from the Audi A3 to the A4, and what to do when you unknowingly puncture a tire in a rental car.
Where it all began
This was an unintentional review. I had a dentist appointment two hours south of my home and spring was blossoming. It was the perfect opportunity to clear the cobwebs from my motorcycle and take the twisty route south of Sydney. That was my intention anyway. It turns out that seven days of perfect weather ended on the day of my planned ride. For all of their merits, sitting one leg either side of a motorcycle in the rain isn't prime real estate. It was time for Plan B.
Perhaps there is a greater lesson of travel: expect Plan A to fail, so have a wicked-fun Plan B in mind.
Hertz has been my staple rental company for a few years. This is partially because I have a fantastic CDP discount code through my American Express Platinum card (check it out here), yet I admit their product is reasonably solid: an Audi with unlimited KM.
This being said, they aren't perfect. Although I have a list of reasons why I prefer Europcar over Hertz, I'll leave that comparison for another post.
I had booked the Audi A3, a cheap yet comfortable option for a last-minute change in plans. Long-time Ride Hacks readers would know I've hired the Audi A3 from every provider in Australia. Whilst they hold the elusive position of being not quite as good as other cars I've driven, they always deliver for the money paid. The Audi A3 is in no way a luxury nor performance car. Although comparing on a value-for-money basis, it beats almost all other prestige rentals in Australia.
Indeed, the entry-level Audis from Hertz—the A3 and A4—are significantly more enjoyable than the entry-level Mercedes-Benz offered by Europcar (A-Class and CLA). With the C-Class and S60, Europcar takes the lead in the next class and price point.
As a top-tier Hertz Gold Plus Rewards member (President's Circle), I probably should have higher expectations from Hertz. Although as I had never received an upgrade, and it's technically not even offered above a 'full-size' car, I had no expectations. By the title of this post, you can guess what happened. I was upgraded, and for the first time ever with Hertz.
Only two weeks earlier I had driven the older Hertz Audi A4 (B8 model) and was satisfied to tick the box, but not impressed. The new model blew me away.
The New Hertz Audi A4
I first noticed the interior refinement, echoing the Q7 I hired from Hertz earlier this year. The digital driver's cockpit and updated Audi MMI were warmly welcomed to my driving experience. The current A3, A4 and Q5 look and feel incredibly clunky compared to the new A4 and Q7. It's night and day, chalk and cheese.
The overall drive is engaging, clearly outperforming the Audi A3. It's most similar to the Mercedes C-Class you'll find sitting in the garage of your nearest Europcar. In fact, these two cars have the most similar performance characteristics within this mid-prestige rental segment. Both will take you to 100km/h in 7.3 seconds and deliver roughly the same performance metrics from their 2.0L petrol engines. The key differences are their spirited performance and transmission technology.
Similar to my comparison between the C-Class and Volvo S60, the trump card for Mercedes-Benz is its rear-wheel drive and 'Agility' adjustment control of the engine, gearbox, and suspension. Comparing the two, the A4's dual-clutch transmission feels slightly more agile than the C-Class. This delivers fantastic straight-line performance (for a car not designed as a sports car), and the tiptronic paddles improve driver engagement around the city. Yet the overall 'sportiness' feel of the C-Class comes through in spirited driving when tackling twisty corners. The combination of hardened suspension in dynamic mode, rear-wheel drive, and a haircut of 160kg floats the C-Class to the top of the pack.
rior.jpg)
How does the Audi A4 measure up?
With Europcar recently introducing the BMW 320i, the mid-prestige range of the market has become moderately competitive. Hertz has the Audi A4, and Europcar has the Mercedes-Benz C-Class, Volvo S60, and now BMW 320i. I guess we'll give Hertz a pass with their introduction of the Audi R8.
Historically, Hertz's Audi A4 was only found in airport locations. This is fine for a business traveller, although a pain in the ass for anyone wanting to rent from the city. By contrast, Europcar typically has the C-Class in every city and airport location. As of writing this post, I can find the Audi A4 in Sydney city for the first time. Time will tell if Hertz can compete on availability.
Comparing value for money, Europcar frequently offers their C-Class and now BMW 320i for $109 per day. The catch? You are limited to 200km/day before paying for each extra KM. With exception to the Hertz Porsche Cayman (and R8), Hertz have unlimited KM in Australia. If you have the American Express Platinum card you'll bring the Hertz Audi A4 down from $165 to $150 per day. As with all things Hertz, the prices change unpredictably depending on the day of week, time of booking, and where you book from. Read the full Ultimate Guide to Hertz here.
Honestly, I would still opt for the Europcar C200 if I knew that I wouldn't go over the KM limit. However if you have a generous corporate CDP code or plan to drive more than 200km per day, the Hertz Audi A4 becomes a winner.
A cautionary tail: tyre punctures
This is the first time I've ever had a 'damage' issue with a car rental company. I've done close to 50 rentals and have kept a clean record all the way through. Whilst it may seem that luck is on my side, I'd suggest that this is mostly being vigilant on not getting screwed. Read my Ultimate Guide to Rental Insurance for an insider's look.
After picking up the A4, I drove for two hours, only stopping once to top-up the rear tyre. When the car told me the rear tyre was down on pressure, I felt thankful that the technology made my life easier. Like many people, checking tyre pressure was a routine left in the 90's. However I didn't consider it could be any more than someone not setting the pressure right from the last rental.
As I do with almost every car I drive out of the city, I stopped in to show my parents and take them for a drive. I noticed the back tyre light on again. Odd. I topped it up, and carried on.
When dropping the car back, I did the courteous thing any good driver should do. I let them know that the tyre kept going flat. Maybe they should take a look themselves. The collection attendant radio'ed to the office and asked me to pay them a visit to speak with them. It was only at this point I realised: if there is unmarked tyre damage, it's my fault. Damn.
After a bit of back and fourth, the upstairs customer service team said that they would try and find a nail in the tyre. If there was no puncture, there's no problem. But if there is, I'll have to make a choice.
I still wasn't sure what this choice was.
And they found a nail.
They advised that I could either let them repair the tyre, which they asserted shouldn't be too expensive to repair but had a significant downside: it would be an official claim.
From the research I did on Hertz in the Ultimate Guide to Rental Insurance, here is what a claim looks like:
They take the full excess from your card (in this case it would be at least $5,500).
The claim would need to be 'assessed', repaired, and then I would get a refund on the difference.
I would also be responsible for the 'days' the car was not available.
I also found that the 'official' tyre damage cost was $500 for a prestige car. I'm not sure if this was the maximum amount, or a fixed amount.
Alternatively, I could just get the tyre repaired. Ummmmmm…..let's do that instead.
As I still had about 75 minutes left on my booking, I drove out of the Hertz garage, around the corner, parked the Audi, and called for prospectively free help. I had a grand plan.
How to not repair a tyre
One of the benefits of the American Express Platinum card is complimentary roadside assistance. This includes rental cars providing it's not parked at your home. I wasn't sure if they would have someone who could repair the tyre on the side of the road. They do it in rural Australia, I didn't consider the city any different. When I spoke to American Express insurance, they weren't sure either. It was worth a shot.
Side note: I'm increasingly taking chances that most people would avoid simply so I can write about the outcome on Ride Hacks. Is this reckless? Maybe. Fun? Yes.
They suggested to book the job in with NRMA (Amex concierge would do it for me), which they would cover, and NRMA would call to confirm whether they could complete the tyre repair.
Long story short: I waited for about 45 minutes for NRMA, they didn't call, and the guy turned up to tell me he could replace the tyre with the spare (not helpful), or call a tow-truck to take me to a service station. They could repair the tyre there, but the whole process would take several hours.
Plan failed.
As I would have most definitely exceeded the booking time for the rental, I called to extend for another day to give me the afternoon to fix the tyre myself. This wasn't a problem, Hertz were happy that I was taking responsibility for getting it fixed. On my way home I dropped into a tyre repair center, not expecting they could actually fix it immediately. Within 20 minutes I was back on the road.
I called Hertz again and they graciously let me bring the car back, just under an hour late, with no extra charge. I couldn't thank them enough.
Ride Hacks lesson: when booking a rental car, have a tyre place located nearby just in case you need to make a quick repair a few hours upon your return. This will save the potential $5,500 temporary hit to your credit card.
Alternatively, if you only have a single day booking or have a tight schedule for a few days, you could consider taking only the Glass and Tyre Cover offered by Hertz for $6 per day (allegedly — I haven't seen this documented anywhere).
Hertz Audi A4 Experience Summary
Despite the troubles at the end of the rental, my time with the A4 felt familiar. Like the other German brands, you feel a distinct DNA when driving an Audi. My vanilla rental still remains to be the C200 from Europcar, however the prospect of renting an A3 under $100 and chancing an upgrade to an A4 seems worth it, sometimes.
Next up: driving the Europcar BMW 320i and writing a side-by-side comparison of the mid-prestige rental category in Australia. Stay tuned.
Love renting unique cars?
We rarely send email, but when we do it is full of the juiciest tips and tricks on discovering unique car rentals.
You've already subscribed! Want to get in touch? Send us an email at
[email protected]
Enjoyed this post?
Why not subscribe and join the occasional Ride Hacks newsletter?
Subscribe