The Definitive GoGet Audi A3 Review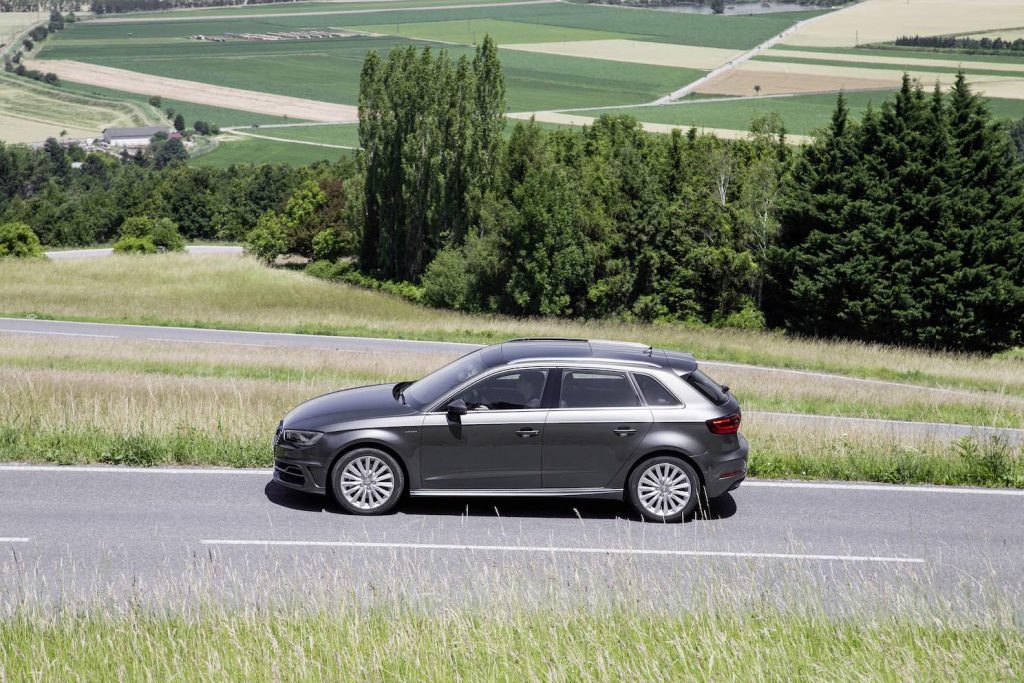 GoGet prides itself on being convenient. So convenient in fact that you won't need to own a car. For us who live in the city centre, it's true — we probably don't need to pay an extra $100 per week for a house or apartment with a car spot as we have public transport, services like GoGet, Uber and plenty of traditional car hiring options. However for many others in Australia, a car is still as much of a necessity as a credit card and mobile phone.

Given this, consider for a moment whether you could utilise the economics of GoGet's high utilisation rates to drive an entry-level prestige car for $5 to $15 per hour, fuel and tyres included. Now when we say prestige car, we're being fair but kind. The car in question is an Audi A3, not quite an R8, RS6 or even an S3, however as you'll discover in the review below, the experience for this on-demand rental far outweighs saving a few dollars and hiring a Corolla or Yaris.

The Audi A3 is GoGet's most recent category of on-demand vehicles available to hire within minutes notice. They refer to it as their 'Super Fancy' range, pushing down the current A1 which was considered just 'Fancy' for the past few years. After spending three days driving the A1, which really isn't worth writing about, my experiences in the A3 have completely changed my view of what type of driving experience could be bought at a relatively low price.

I've hired the GoGet Audi A3 from four different locations (yes, they all have names):
Motomu – Martin Place in the Sydney CBD ($10 per day surcharge)
Wolfgang – Harris Street Ultimo near my office at Fishburners
Annalisa – South of downtown Sydney, close to Central Station
Saskia — Sydney CBD in the Met Centre Secure car park
The first three cars were hatchbacks, paddle-shifting 7-speed transmissions and near new condition, except for 'Wolfgang' in Ultimo where I was actually the first person to ever drive the car – essentially a four-hour test drive without an annoying salesman for $50. At the time of writing this, Sydney has 12 of these cars available, and Melbourne has 10 available.
Saskia is one of two sedans available in Sydney. What makes the Sedan special is the upgraded engine from the 92kW/200Nm in the hatchback to 110kW/250Nm in the sedan. I could tell the difference pretty quickly.
I've also separately reviewed the Audi A3 Convertible.
GoGet Booking Process
Once you're a GoGet member, you'll be able to login and check the availability of their 'Super Fancy' cars – at this stage only the A3. As there are a limited number of these cars available, I have experienced a handful of times when I've wanted to hire the A3 and it wasn't available. However for the most part, availability has been fine with a bit of notice.
Most of these cars are currently in a 'Premium Location' with an accompanying $10 surcharge per day or $1 per hour. Therefore you may want to look for Wolfgang in Ultimo (TAFE), Saskia in Chippendale (Central Park), and Annalisa in Downtown South (Central Station) where there are no surcharges. As of the time writing this, Melbourne doesn't have any Premium Locations.
Ride Hacks Tip
As it's likely one of these Super Fancy cars aren't quite near you, when you are choosing your location consider not only the $10 surcharge but also the cost of public transportation, Uber, or street parking if you plan to drive another car and park nearby. For many people it's likely cheaper to grab a train or bus to the city and pay for a 'premium location' Audi A3 than it would be to catch an Uber or park near one of the non-surcharge locations.
Damage Check
The nightmare of any car renter is pre-existing damage. You know the feeling, you hire a car and a few hours later find some damage that couldn't have possibly been your fault. When returning the car they throw your decision to refuse their overpriced insurance in your face and hit you up with $2500 excess. No thanks.
— Nightmare over —
This previously happened to me with Hertz BMW 118i rental. Luckily, I immediately called them (2 hours later) and all was fine when I took the car back. This being said, the anxiety of being screwed over during the rental really diminished the experience.
Read my Ultimate Guide to Rental Car Insurance here.
In my experiences with GoGet, you often will find that your car will have some damage, usually nothing too bad. Compared to traditional car rental companies this is a refreshing change. The 'trust, report and honesty' system removes the anxiety of the customer service attendant finding a way to pin damage on you after every rental. I've even heard about cases where rental companies have tried to charge for damage found after the renter has left. GoGet is pretty good on this account.
As with any rental car, the best practice is to check the entire vehicle for damage and take as many photos as you need to cover your ass. On this occasion I picked up the car at 7pm on a raining night, so a comprehensive check wasn't possible. The next day I discovered three small scratches, 1cm in size, on the driver's door panel. Normally I wouldn't worry if this was a Yaris, although being a relatively new Audi, I called GoGet and the customer service agent told me that their policy is that I should have called them before starting car if I wanted to void any liability of pre-existing damage – of course I apologised.
Little did I know, GoGet actually doesn't really care about damage less than the size of a credit card, however I assume that a hole in the door probably would also be considered damage. In my case, I was absolutely fine and she assured me that although they will file a damage report, I shouldn't have a problem.
Ride Hacks Tip
When using GoGet, just look for any large damage and when in doubt, take photos, call them and write it into the damage log.
If I could suggest one thing to GoGet, it would be to have member 'status' where someone like me who spends $300-$500 per month would be able to get through to a customer service agent instantly instead of waiting for 2-10 minutes.
The Audi A3 Driving Experience
After doing some research on the VIN number and engine codes, I've been able to determine that the Audi A3 Hatchback that I picked up was the Attraction series with the Style Pack added, giving her Xenon headlights and 17" wheels. Whilst the hatchbacks share the Style Pack, the sedans don't have the Xenon headlights but do have the 17″ wheels.
The 1.4L turbocharged engine performs surprisingly well compared to how it looks on paper – 92kW/200Nm for the hatchback and 110kW/250Nm for the sedan. The comparative Europcar Mercedes-Benz A180 has about the same power as the hatchback. However the regular automatic transmission, instead of the A3's dual-clutch, really impairs the driving experience.
When considering the GoGet Audi A3 sedan, it feels faster than the much more expensive Europcar Mercedes-Benz SLK200 convertible which has a bit more power at 135kW/270Nm. Once again, this comes back to Audi's impressive gearbox for this car's price point.
The wheels on my A3 were upgraded to 17 inches with 225mm rubber all-around. This slightly reduced body roll (or specifically tire roll) and presumably helps with heavy breaking situations, however we never had the opportunity to test this out completely. Just be careful of scraping those rims on a side gutter – you'll eat into your insurance excess pretty quickly when replacing a rim.
Audi Tech
As the base model A3, this car definitely lacked some features that would be required if you were heading on a longer road trip or if you were new to Sydney/Melbourne roads. Notably, the lack of Audi's inbuilt navigation system means you will have to rely on your own GPS unit, your phone or simply take your best guess on where to go.
As an alternative, you could hire out the Hertz 24/7 Audi A3 or Hertz Audi A3 with the upgraded sound system and GPS, or the GoGet A3 Cabriolet for just the GPS and parking sensors.
Another inconvenience was that there is no USB input for the audio system. This was the same for the Audi Q5 that you can find at Hertz 24/7 and Hertz. Yes, the Bluetooth works seamlessly, however for longer trips it's easier to simply plugin, stay charged, and listen to some tunes.
Ride Hacks Tip
If you need navigation, I recommend using Apple or Google maps in navigation mode, paired over Bluetooth. This will let your Siri or the Google voiceover to let you know where to turn and also dim the music whilst the instructions are coming through.
With these complaints aside, the eight-speaker audio system sounds relatively good compared to the other GoGet alternatives. However, without a subwoofer it lacked a bit of punch when the volume is cranked up, so you will want to consider the Hertz 24/7 Audi A3 or Hertz Audi A3 if sound quality is really important to you read my review of the Hertz Audi A3 here. When buying this car you have the optional upgrade to the Bang and Olufsen system for $2,600 – I guess you don't get everything when you're renting.
Audi Design & Style
My car (Annalisa) was Mythos Black with a Titanium-Grey interior. The seats had more side support and were a higher-quality leather compared to the Mercedes-Benz A180. I will provide a full side-by-side comparison of the interior comfort of these vehicles in another post soon.
If you are heading somewhere where you need to be conspicuous about hiring a GoGet to get there, you should note that there are GoGet decals on the front and rear panels. Luckily it doesn't have the notable orange GoGet mirror, and in my opinion the decals are not obtrusive, however it's a consideration if this matters to you.
Personally, I prefer the look of Audi's sedans over their sportbacks, but that's just personal preference. On the outside, this just looks like any other new car. It's not going to be turning heads, but maybe that's what you want.
A sunroof would have been a nice addition, particularly for the warmer months, although for this price, you won't find too many cabriolets or panoramic roofs in similar cars.
Update: since originally publishing this post, GoGet has introduced their Audi A3 Cabriolet. Read my review here.
Although it doesn't seem like a big thing, I was very impressed with the turning circle of this car. This is a huge benefit when you have a tight parking space to squeeze into, or when you need to do a 5-point turn to exit your garage (as I do).
The Competition
If you wanted experience this Audi A3 there are several competitors in the same class. These are:
Hertz 24/7 Audi A3
Hertz Audi A3
Europcar Mercedes-Benz A180
Avis Mercedes-Benz A180
Final Thoughts On GoGet's Audi A3
GoGet has been a centrepiece of my transportation strategy for the last year, mostly by getting to the local shopping centre using cheap Carolla's and Yaris' that are parked within two minutes from my front door. The addition of the Audi A3 to the GoGet family is a welcomed upgrade for our weekend drives that are a bit more than just grocery shopping or visiting the in-laws.
Hertz 24/7 have just announced they're replacing their BMW 118i with an Audi A3 and adding a Q5 into their on-demand fleet. GoGet definitely has a larger existing footprint than Hertz and will be able to deploy more Super Fancy A3's in more inner-city suburbs, if they wish. Game on.
Love renting unique cars?
We rarely send email, but when we do it is full of the juiciest tips and tricks on discovering unique car rentals.
You've already subscribed! Want to get in touch? Send us an email at
[email protected]
Enjoyed this post?
Why not subscribe and join the occasional Ride Hacks newsletter?
Subscribe