Europcar Prestige Review | Mercedes-Benz SLK
Is it worth experiencing the last SLK ever built?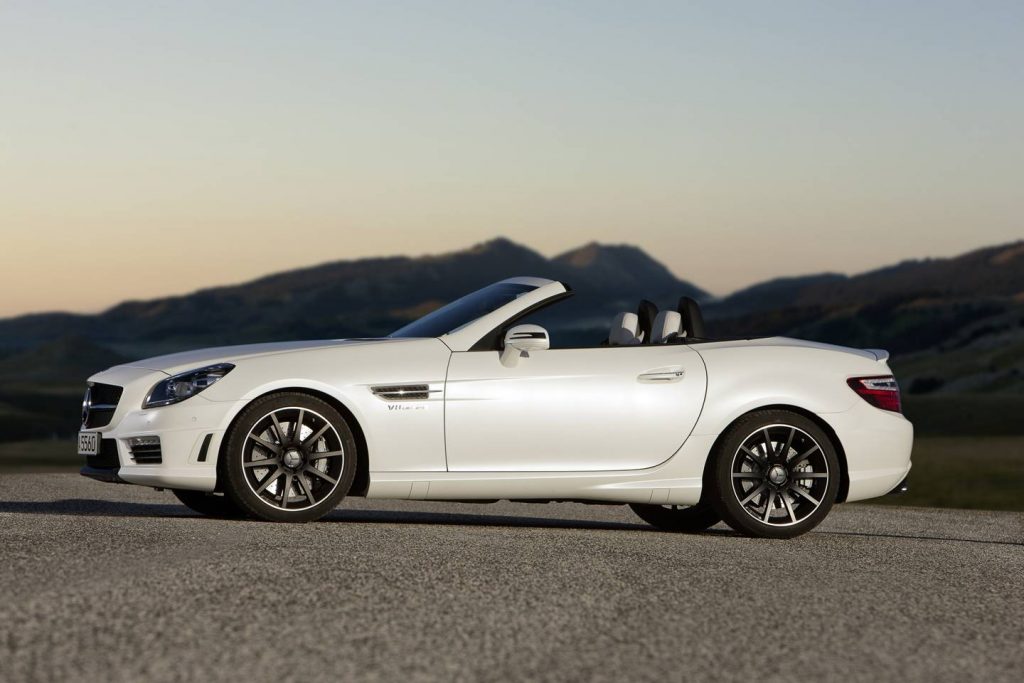 It was supposed to be 24 hours driving an executive staple; the car designed for a European Executive. I could imagined it clearly. The white collared shirt, leather shoes and valet parking. But then again, life never turns out how you expect.
Although one might say the Mercedes-Benz C200 is the less-obnoxious younger brother of the C63, or the working class ticket into Mercedes-Benz ownership for the SL and S-Class aristocracy, I didn't care. Hiring out the C200 to trek across Sydney for a party instead of taking public transport is represents exactly why this blog exists.
Ride Hacks is about driving experiences. This doesn't (only) mean driving the most expensive cars that require three credit cards of insurance as security, or parading around in the quintessential red Ferrari. No, Ride Hacks is about redefining driving experiences with a touch of class — replacing that Toyota Yaris for $50 per day with a Mercedes-Benz at $150 per day. Three times the price, ten times the enjoyment. For us anyway.
But my day didn't go as planned, did it?
In all honesty, I was tossing up between hiring the Mercedes-Benz SLK200 Roadster or the C200 Sedan. Considering the weather wasn't forecast to be too pleasing, and we didn't have any significant driving plans, I opted for the classic C-Class. This would be the second time I would be driving the Europcar C200 rental, the first I looked a bit like this:
Europcar Mercedes-Benz Booking Process
First thing's first. There are many ways you can book a hire car, particularly through Europcar, however here is the summarised version:
direct through the rental website, e.g. Europcar or Hertz
via a third party aggregation engine, e.g. Expedia, Qantas, VroomVroomVroom etc
via a corporate or partner micro-site, e.g Etihad Airways Microsite for Europcar, American Express etc.
via a travel agent
When you consider the different types of loyalty options, e.g. earning status with Europcar, earning Virgin Velocity points, gaining bonus points for using certain types of credit cards…you'll soon have a really bad headache. If I didn't explain this clearly to you, you probably won't be sending me a Christmas card this year.
I want to make it easier for you so I'm working on a guide to help you through this process.
In particular for this booking with Europcar, I have Elite Gold status with Etihad Airways so it makes more sense to book through their microsite than it does through the Europcar website. I did ring and ask for a specific program code for Etihad, however no one has been able to tell me what it is. Basically, if you want the discount, use the microsite.
The microsite is ugly, looking like it was built by 15-year-old me when the word internet was still misheard as intimate. But at the end of the very clicky process I applied my 15% discount from a daily rate of $145 down to $124.48 – respectable price for a day in the C-Class.
Update: Since writing this article there is a way to use the normal etihad site using the Europcar code. This makes the process easier but you still need to use the specific link. Click on the link below to get to the Etihad-specific site.
Click here to go to the Etihad-specific landing page for Europcar.
Europcar Pickup Process
The closest Europcar outlet to my home is in Darling Harbour, not too far from the Hertz where I usually rent out cars like the Audi A3 I reviewed here. The booking was for 11am on Sunday morning so I jumped on my motorcycle and headed across the Anzac Bridge to the slightly hidden Europcar station inside the Secure Parking building.
After waiting in line behind some British gentleman who took 15 minutes to book a car (who does that?) it was my turn. Confident that I know the process like the back of my hand, I handed my licence and credit card to the Europcar attendant.
Keyboard: tap, tap, tap…
Attendant: ** frowny face **
Me: "Ugh, you don't have the car do you?"
Indeed, they didn't bring my C-Class over to this branch for my booking. My options were to take a non-prestige car, or to head over to the City Europcar branch in the Pullman Hotel.
I requested that if I was going to travel across the city I'd expect an upgrade to another car they had available, perhaps the E-Class Sedan, E-Class Cabriolet or SLK Roadster. The sheepish attendant finished the phone call with his city colleagues and said they would upgrade the car if I picked up the $40 damage liability insurance to reduce the excess from $6,000 down to approximately $1,200.
Although I never accept the rental companies' insurance product, I did the math and worked out that it would still be cheaper than hiring out the SLK on my own terms.
Leaving Europcar feeling less like the European Executive and more like the Italian farmer riding between villages on his motorcycle, I uttered "I'll work it out when I get there".
I jumped on my bike and darted my way through the city.
The Pickup Process MKII
The ride from Europcar in Darling Harbour over to the Pullman Hotel in the city is quick. On a Saturday morning, a little quicker. With only two-hour parking available 24/7 around the hotel, I decided to just park my bike anywhere and work out how to avoid the $97 fine after picking up my new wheels.

The Europcar office is actually inside the Pullman Hotel, in the south side of the lobby to be precise. I explained the situation to the customer service attendant and he didn't quite understand. With a bit of back and fourth he tried to tell me an upgrade wasn't available, until his colleague said 'Just book it out'. Sometimes it's best to be direct. Not rude, just direct.

The booking process was complete and it turns out I didn't need to buy the extra insurance. Score. I was going to be driving away in an SLK200 for the cost of a 15% discounted C-Class. That's a $235/day car for $139. Todd is happy.

As I have advocated in my previous review of the Hertz Audi A3, checking for damage around the car is the single smartest thing you can do when you are at risk for a $6,000 excess. One might say that perhaps not breaking speeding laws might be more important. Although my conclusion is that there is no thrill in paying for someone else's damage. Go figure.

Despite only 7560Km on the clock when I picked her up, my SLK had slight scratches on all four rims. I later found out how this came to be with really poor visibility of the car's edges. However in my deeper inspection walking around the car, I noticed a significant scrape under the driver-side front bumper — obviously some type of gutter-incident. Nevertheless, I asked them to mark this on the paperwork.

Just like the pickup attendant at Hertz, the Europcar guy said they were happy to mark this onto the paperwork but they really only care about significant dents, scratches and any wheel damage. He even said stone chips (paint work, not on the window) don't matter to them.

[callout _class="primary" _size="" _closable=""]
Ride Hacks Tip
Use the damage report in your favour. Ask them to mark a few things on there that weren't previously noted when you pick up the car. Why? Two reasons. Firstly, you proved that they didn't pick this up upon the last person returning the car. Secondly, the chart is so undetailed that if you accidentally scratched the car in the same place that there was another scratch that was marked, you may get out of paying for any damage.[/callout]
Mercedes-Benz SLK200 Performance & Handling
For any Ride Hacks car, the drive matters. It's not always the most important aspect of the review, but it carries significant weight. Before writing these reviews I like to consider what the engineers and designers intended for the car they built for you. As the driver of the vehicle, how did they intend on making you feel?
After all, the spirit of Ride Hacks is choosing the right car for the occasion.
The SLK200 is the entry level of the Mercedes-Benz SLK class and the cheapest Merc roadster you can get your hands on. However with a $95k price tag, and $30k of depreciation in less than two years, I'll take the rental from Europcar. See my deeper analysis further below in this article.
The car I'm driving is a 1.8L turbocharged 135kW and 270Nm Roadster weighing about 1500Kg. The rear wheels are a little wider, supporting 245/35's compared to the front 225/40's — presumably to compensate for the short wheelbase.
There are two drive modes (if you can call them drive modes in a 1.8L): E and S. I don't think I would be going out on a limb to assume these are economy and sport. However after a few minutes in the default E, I couldn't stand the economy mode.
Maybe it's the smaller engine or turbo lag, but the economy mode was painfully unresponsive, letting the car significantly slow down before downshifting and shifting up gears too early, just to get bogged down again. Needless to say, I spent most of the time in Sport mode.
And that's the way it should be. This is a sporty kind of car. It should be responsive under the foot and hold those revs just a little higher than usual. However as we're talking about transmission, this brings me to my next grime: the manual mode.
What manual mode?
That's right, there actually isn't a true manual mode in the SLK200. When you're in Drive you can shift down or up by pushing the automatic gear stick left or right, which just doesn't have the same feel as notching up or down (Fast and the Furious style) or using tiptronic paddle shifters.
Oh yeah, no paddle shifters.
The not-so-great gearbox experience really does degrade the overall driving experience. The only slight upside I found was that planting your foot to the floor and forcing the gears to change at higher RPM made a dual-clutch-sounding crackle between gears, but that has become common among this class of car. Unfortunately, the lack of manual control limited these crackles to dragging suped-up corolla's at traffic lights. Yeah bro, maybe not.
The engine is strong for a 1.8L turbocharged inline four. As expected, the torque down low is above average compared to it's Japanese rivals however the power at the higher RPM is where the fun begins. Without sounding like a broken record, it's the gearbox that dismisses this engine from achieving its potential. A real manual gearbox would have been ideal, however even a dual-clutch manual mode with tiptronic would have worked for me.
You wouldn't have thought so but driving around for 110Km yielded a fuel economy of 10L/100Km. For such a small engine and light car, this is pretty thirsty. A more comprehensive review over a few days with multiple tanks might prove otherwise but my observation was that this car knows how to drink!
The suspension is reasonably comfortable yet the super-low centre of gravity sticks the car on the road without any questions. I honestly didn't get a chance to really push this car to it's limits from a handling perspective, however it never missed a beat driving slightly spirited around corners.
But when all is said and done, if you aren't happy with only looking good and you also want to sound like you mean business, you could always seek out the SLK 55 AMG pushing out 310kW and 540Nm from a naturally aspirated 5.5L engine with the same chassis and only 10mm extra rubber on the back. Mercedes-Benz also tells me that they the gearbox upgrades from the current 7G-TRONIC PLUS to the AMG SPEEDSHIFT MCT 7-speed sports transmission. That will be another day.
Mercedes-Benz Design & Styling
First impressions: this is a kinda sexy-looking little car.
Second afterthought: the SL looks more masculine.
Regardless of how it drives, my opinion of the interior finish, how comfortable my ass is after four hours in the seat, and the quality of the sound and technology, the SLK turns heads.
No, you're not going to look like James Bond, and you're not going to look like a European Diplomat try Uber Lux for that. The SLK has a much more aggressive look than you would expect from a 1.8L turbocharged roadster. The seats are low and the tiny body zips in and out of traffic without a second thought.
This particular model was polar white with 18" standard alloy rims – it is about as standard as you could possibly roll off a Mercedes-Benz showroom, yet breathtakingly beautiful.
But then you might, as one does, open the car and get inside. At this point you'll likely feel like you've just survived Y2k, Google doesn't exist yet and you are looking at the interior of a futuristic car manufacturer.
Yes, the interior feels a bit old.
To be fair, the SLK is due for a revamp. They first released this model (R172) in 2011 — a whole four years ago. Since first writing this article, Mercedes announced the replacement for the SLK, the SLC. The SLC200 has a more aggressive front and BMW Z4-esque rear-end.
Read the landing page for the new SLC here.
Unfortunately it looks like they still have quite a busy interior. By contrast, the particular Mercedes-Benz interior that has really caught my eye is the latest C-Class (W205). The quality of these materials is absolutely outstanding.
Maybe Mercedes-Benz have realised that hipsters with cash want to drive their cars but are afraid to show their friends inside. Maybe.
The Tech In An SLK200
It's a roadster, and a small one at that. The sound is acceptable, but neither very good nor great. But who cares? If the roof is down and if I so wanted to pump my music, the whole world has to listen to it. Actually, even I am too self-conscious to do that.
The navigation — it works, yet doesn't have anything on other cars being released during the same year. The essentials of parking sensors are there, but without a reversing camera they become a novelty.
The single unexpected feature in the SLK200 was the magnitude of adjustment on the seats. Compared to the other cars I've driven, which were also entry-level prestige cars, the Mercedes-Benz SLK200 had every type of adjustment you could imagine. The lumbar support would be a nice treat for a longer drive. This being said, the seats don't support you well enough to be doing powerslides.Please don't do powerslides in a rental car.
Please don't do powerslides in a rental car.
Competition For Convertible Hire In Sydney Or Melbourne
To be honest, there are none. Well, let's be specific. Can you find another Roadster for around $200-$250? Not from a rental company. The closest is the Hertz Porsche Boxster for $300 per day, but that's only in Brisbane.
However when you venture into the car sharing world of DriveMyCar, they have:2013 Mercedes-Benz SLK250 for $102 per day (min 7 days, 700Km total), a 2010 Porsche Boxster 987 for $140 per day (min 7 days, 700Km total), and a 2010 BMW Z4 35is for $105 per day (min 7 days, 700Km total), of which
2013 Mercedes-Benz SLK250 for $102 per day (min 7 days, 700Km total)
2010 Porsche Boxster 987 for $140 per day (min 7 days, 700Km total)
2010 BMW Z4 35is for $105 per day (min 7 days, 700Km total), of which I drove over Christmas in 2015.
That is, just to name a few.
Read my comprehensive guide to hiring a convertible in Sydney or Melbourne.
Crunching the Numbers
If the SLK was your second car, how often would you drive it? Let's have some fun with this calculation. Assuming you would use it 9 months of the year (a cabriolet in the middle of winter or summer…really?) for a full weekend – Friday till Monday.
The going rate, without any discounts is $675 for a full weekend with 600Km included and you would be renting it out for, say 40 weeks in the year.
This would come to $27,000 over the year, and you would have 24,000Km to play with. These rental rates could easily be reduced by 15-20%.
'Wow, so expensive' a non-RideHacker might say. However I suggest you look on CarSales.com.au at a 2013 or 2014 SLK for sale. Your $95k car will be hovering around $60k after one or two years. Plus add on registration, insurance, the cost of capital (either lease, loan, or opportunity cost if you paid cash).
I get it, some people love to own things. Ever since ancient civilisations we have been fascinated with showing our wealth through what we own. However what if you decided after a month you would rather drive an Aston Martin on a weekend instead? Or, if you wanted to take a trip to Thailand and not rent a car for a month?
The Ride Hacks way is simple: pay a premium for the experience and flexibility. That's what we believe, and we'll show you how.
Final Thoughts on the Mercedes-Benz SLK200
What started with an expectation of the iconic executive sedan became 24 hours of roadster fun. Admittedly, I now feel like my original plan sucked.
Waking up Sunday morning, putting the roof down and driving down the end of my street to take photos of the SLK by Sydney Harbour really was an experience in itself. What surprised me most about driving a roadster around for the day was how many unique driving experiences can be found within one car.
Love renting unique cars?
We rarely send email, but when we do it is full of the juiciest tips and tricks on discovering unique car rentals.
You've already subscribed! Want to get in touch? Send us an email at
[email protected]
Enjoyed this post?
Why not subscribe and join the occasional Ride Hacks newsletter?
Subscribe