Europecar Mercedes-Benz A Class Review
Maybe you shouldn't take my word for it…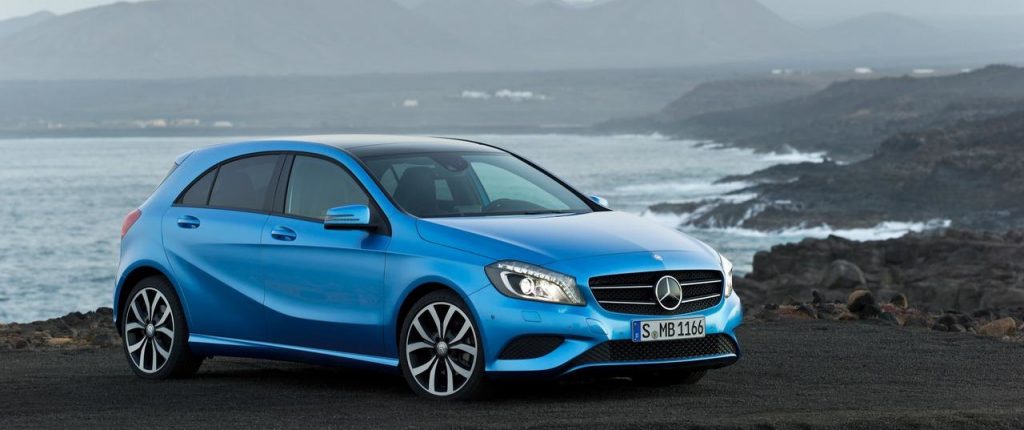 Sound — the consistent thread weaving this review of the Europcar Mercedes-Benz A Class.
Those of you who have seen YouTube videos of the new A45 AMG may be wondering if the 1.6L engine in the A180 has the same growl, pop and sneer. You know the answer, but I'll pull the wax quickly on this one.
No, not even close.
Then why would I begin such a review talking about sound? What other sounds could one expect in a modern day hot warm hatch? There are more than you might expect. But now you know where we're going, let's start at the beginning.
This is a review of the A-class that seems to be permanently on sale at Europcar. When a rental company has a permanent sale, they are really telling you that (for the first time) their pricing is transparent and you won't pay different amounts depending on the length of rental, day of week, your loyalty status, the booking engine used, where you pick it up from and…the list goes on.
Transparent pricing — sounds like a fantastic step forward. Though not quite revolutionary.
This car was in my hands a year ago, before I started Ride Hacks. As my rental experience advancing over the past year, that is to say that I probably spend more on rentals than a Qatari Billionaire spends on transporting their hypercars to London, I feel like I'm qualified to know where this car stands in the pack, but don't trust my opinion blindly. Try it yourself.
Buckle up for my two-day experience with the Mercedes-Benz A Class.
Europcar Online Booking Process
As the Europcar Mercedes-Benz A180 has a set rate of $89 per day, there is no point trying to book through any other aggregator or Europcar microsite — it will be more expensive.
At a total cost of $89, plus fuel and extra insurance if you choose so, the A180 comes just a tad cheaper than the GoGet Audi A3 and the same as the Hertz 24/7 Audi A3.
If you want this deal, you need to go straight to the Europcar website. Click here to go straight to the deal.
Europcar Pickup Process
As I mentioned in my review of the Volvo XC60 and Mercedes-Benz SLK200 from Europcar, the closest branch to my house is a quick ten-minute drive given there is no ridiculous traffic on the Anzac Bridge. There are four downsides from renting at a smaller, non-downtown branch:
It's common that they will not have the car you ordered. This happened for both the SLK and the XC60, both of which I originally ordered a Mercedes-Benz C-Class.
There will always be a customer service attendant when you pick up the car, but it will be one person. This means that if you have a tourist in front of you who doesn't understand the rental process, forgot their licence, or has trouble communicating, you will be waiting an extra 10-15 minutes per person.
The other, probably less obvious, yet incredibly important consideration is that when you wait 10-15 minutes to pick up your car, which is supposedly 'damage free', and then you find something you want to mark onto the damage report, well — line up again for another 10 minutes to get the attention of the single attendant. More commonly, you will be tempted to think 'They probably already know about this. I'm not lining up. I'm leaving.'  This decision might just bite you in the ass when you return the car.
Finally, when you drop the car back there may be no one there to accept the car. They get around this with an 'after hours' box to drop your keys. Seems reasonable, however you may be susceptible to an after-the-fact damage claim from a vehicle inspector who doesn't have to look you in the eye when they point out the fair wear and tear as 'damage'. The terms say that they have the right to clean the car before inspecting it and making a claim on your credit card.
Are airport locations any better? Definitely not (read about my experience in the Audi Q7 here). However I would recommend that your busy downtown branch is the best balance between the two.
In my case, the first point didn't apply as they usually have a lot of A180s in stock. The second did apply, with a ten-minute wait, but not as bad as other times. The third point also applied where there wasn't necessarily damage, but it was borderline — a rim scratch and a few surface scratches on the paint work. And although someone was there when I dropped the car back, they still insisted that I didn't need to hang around if it was 'full of fuel and no additional damage'.
Sure, it's a simple process, but sometimes I feel like there is increasing risk in trusting a stranger with my open credit card. After receiving the final Europcar invoice, I know I'm in the clear. It's not a nice feeling though.
Let's talk about the car.
Drive & Performance of the Mercedes A180
Back to sounds.
I'll break the ice. The Mercedes-Benz A180 does not have a nice sounding engine note. In fact, it's what you might consider a noisy engine. Compared to the Audi A3, the main rental competitor in Hertz, Hertz 24/7 and GoGet, it's simply too noisy for a prestige car.
The road noise was also surprisingly loud. I admit, my last rental cars were the super quiet Audi Q7, Audi Q5 and the Volvo XC60. However, I distinctly remember the Audi A3 being much quieter than the A180.
Putting this aside, how does the 1.6L engine compare to her rival? Ugh, barely.
The 1.6L engine does have some stick when the turbo is wound up in the higher rpm, albeit taking a while to get there. It was interesting to note that the throttle response is also extremely mild — put your foot down and nothing seems to happen, even in sport mode. However, it turns out that the physical distance for the throttle pedal is quite long. You need to be flat to the floor to see some action.
The tiptronic gearbox is similar to the Europcar SLK200 that I previously reviewed. That is to say, it kinda sucks. Despite being claimed as a 7G-DCT dual-clutch, it's nowhere near as fast shifting through the gears as the Audi A3, and that's not really a high standard.
Put simply, the Europcar Mercedes-Benz A180 isn't a performance car. Despite sharing DNA with the AMG family of the A45, CLA45, C63, et al. this engine and gearbox has nothing on other performance cars available for hire. Although I haven't driven it yet, the (presumably) base model Europcar Volvo V40 has 25% more power and torque than the A180 (exactly 25%…weird).
With all of this aside, the one saving grace for the A180 is steering and handling.
This beats the Audi A3 hands down. The steering is worth noting. Whilst it is claimed to have Speed-sensitive steering, I didn't notice it. Maybe that's the intention. Overall, I loved the feel of how each subtle movement of the steering wheel translated into the car's direction. It's not Porsche-good, but it's definitely a winner over the Audi A3.
Is This Really Mercedes-Benz Design & Style?
It's a Mercedes-Benz. You may expect to find certain things, and not expect to find others. But this isn't any ordinary Merc. With the exception of the Vito Van, this is also the cheapest Mercedes Benz you can get your hands on. Being first in the price game comes with strings attached.
Before you get into the car, you'll notice that it is actually quite good looking on the outside. It's not a bold design, however in the eyes of most other drivers on the road their rear view mirror will focus on the aggressive front and Mercedes-Benz logo. It won't highlight an underpowered hatchback.
If you know your dogs, then the A-class is like a Staffy where the Audi A3 is more like a Beagle. It's simply more muscular than your standard hatchback.
As you enter the car you'll notice my favourite part of a Mercedes-Benz: the doors. They are so exact, so precise. You will love the solid thud of each open and close. Greeted with a welcoming illuminating Mercedes-Benz on the door sill, you'll find sporty black and red seats and a thick leather steering wheel that makes you feel like you might just be in a special car.
And then it mostly goes downhill from here.
I'm not trying to be critical, I'm really not. It's just that there is a significant mismatch in expectations when you finally get into the car. This is mostly from the technology, let me get to that in the next section.
When we put technology aside, this might just be a great interior if you're shorter than 5'9" or 175cm. I'm not tall by any means, only 5'11" (180cm), and everything felt just wrong.
After adjusting my seat, which my wife always reminds me to do before I start driving, I have to lean forward and twist my body to press any of the centre console buttons. The right armrest on the door also is useless as my elbow doesn't fit within the gap before the door break. And the seats are a little too narrow at the top — whilst you will feel supported on the sides, anyone with wider shoulders will develop pains from the constant pressure at the shoulder tips.
What if you were smaller? Maybe this would be a great driving experience, perhaps even luxurious compared to a Toyota Corolla. However, we haven't talked about the technology yet.
Technology In the A180
When I reviewed the Europcar Mercedes-Benz SLK200, I had some harsh things to say about the technology stack. Everything was very 90's. Unfortunately for Mercedes-Benz, the A-Class is similar.
Starting with the positives, the driver's dash display is actually quite pleasant. Whilst not as modern as the Audi A3, it is clear and intuitive with the exception of the centre contextual display. The sound system is also significantly better than the base Audi A3 that you'll find from GoGet, and it's also better than the SLK200. The upgraded 'Audi Sound System' with a subwoofer definitely will win in a doof doof competition, but in general, the Mercedes-Benz system has a great sound.
When push comes to shove, no one likes looking at the incredibly ugly android-esque tablet, glued onto the dash with more black shiny plastic around it than screen surface area. The interactivity is also very confusing, clunky and just plain horrible to use.
Whilst nothing I've used comes close to the Hertz Audi Q7, the Audi A3 also has a significantly simpler technology design. Less buttons, less menus, less levels of detail. It's simply better.
The air conditioning also is controlled by two big analogue dials: temperature and speed. Whilst it worked, it definitely didn't feel prestigious. Once again, very 90's.
I had to remind myself, this is a base model car.
Lower your expectations Todd, lower your expectations.
But why should I? And why should you? Considering the quality of prestige rental cars that are available around the world, we have a lot of catching up to do in Australia.
Closing Thoughts On My Europcar Hire
The Europcar discount of $89 per day isn't a terrible deal. Sure, this car is not really up to spec with its closest competitor in Audi, who has been snapped up by GoGet and the Hertz franchise. My overall sense of hesitation and disappointment isn't because it was a terrible rental. In fact, it went quite smooth and we enjoyed the time we had with the car.
The car simply wasn't the highlight.
I speak with such honesty because I would hate for anyone to discount the Mercedes-Benz brand because of their experience in the Europcar Mercedes-Benz A180. That's akin to being racist, judging an entire culture based on the first person you met.
Should have Mercedes-Benz entered the rental market at this low level? Sure, they could rationalise it by selling more cars to Europcar and perhaps giving a greater number of people a 'taste' of the Mercedes-Benz experience. But I believe it falls short. The entry-level CLA- and C- classes might have been a smart move, but the A-Class just doesn't encapsulate what it means to drive a Mercedes-Benz.
Fancy driving the Mercedes Benz A-Class?
Book now →
Love renting unique cars?
We rarely send email, but when we do it is full of the juiciest tips and tricks on discovering unique car rentals.
You've already subscribed! Want to get in touch? Send us an email at
[email protected]
Enjoyed this post?
Why not subscribe and join the occasional Ride Hacks newsletter?
Subscribe