Europcar BMW 320i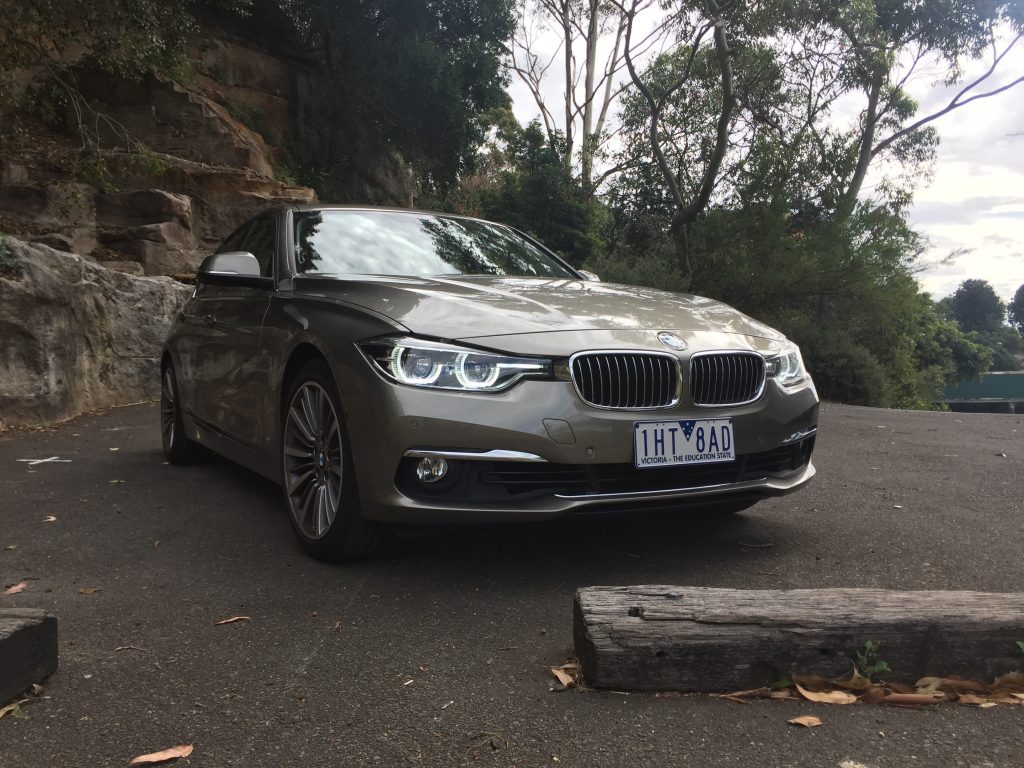 There's a lot to say about BMW drivers. Most characterisations, typically involving balding middle-aged corporate men with existential mid-life crises, are unfair. Given my Volvo Driver Moment, I was open to reconsider that such stereotypes could be open to interpretation.
Europcar recently launched three new BMWs into their Australian fleet: 320i, 220i cabriolet, and 420i cabriolet. This was a second bite at the apple for BMW after Hertz dropped them for Audi in the Hertz Prestige Collection. The Australian premium and prestige rental market is now home to Audi, BMW, Mercedes-Benz. If a different German each weekend is your kind of thing, we're improving each year and Ride Hacks covers it all.
My first prestige rental was a Hertz BMW 118i in December 2013. I recall the feeling vividly. It was like taking a test drive without the chirpy salesman counting his commission. Two days cost me $185.24 and I paid Woolworths Insurance $31.37 for the $5,000 of excess insurance (domestic policy). This felt like a lot of money for me at the time. It was totally worth it.
My booking with Europcar was actually for their E-Class. Whilst the Europcar C-Class remains my favourite car available in the Australian car rental market, the E-Class was always that little bit more expensive for a last-generation car. After driving the E-Class on a recent trip to Dubai, I had a thirst for refinement and wanted to drive it again.
(In)famous Europcar Availability
A seasoned renter would know that car availability is always a challenge. Book one car, they give you another. This was the case when I picked up the E-Class from Europcar Sydney city. Upon arriving I was offered an upgrade to the BMW 2-Series convertible with an extra $50 on my $139 rental. Given that I was chauffeuring my sister-in-law to her Year 12 formal, I thought it would be worth taking a look. I walked down to the garage to see if it would be suitable. The BMW 2-Series (precisely, the 220i cabriolet) is a small car. Although the rear passenger wouldn't have any leg space, my decision was quickly made when I realised that a convertible doesn't mix well with a three-hour hair style for a school formal.
Back at the Europcar office I declined the upgrade to the BMW 220i and requested the E-Class that I booked. It turns out that they never had the E-Class. Positioning a lack of availability as an upgrade was a smooth move by Europcar, but in retrospect looked a bit silly after I declined the offer. As the BMW 320i caught my eye as I left the garage, I requested for this instead.
The First Moments in a BMW
The moment you sit in a BMW you'll realise two things. First, it feels cheaper than a Mercedes-Benz. Second, it feels more cluttered than an Audi. However with the new Hertz Audi A4 adding switches and knobs here and there, and BMW eliminating a lot of the plastic, the void is closing. In fact, the DNA of BMW seems to only reveal itself when you start driving.
Given that the BMW 320i only pushes out 135kW from a 2.0L turbocharged four-cylinder, most of the BMW Driving Experience happens in the first three gears. If you are heading to the mountains for the weekend, this will be a fun companion. It's important to note that it's actually the most underpowered car between the four mid-level prestige sedans in the Australian rental market.
| Car | Power/Torque | Power To Weight |
| --- | --- | --- |
| BMW 320i | 135kW / 270Nm | 90.0 W/kg |
| Audi A4 (B9) | 140kW / 320Nm | 88.3 W/kg |
| Mercedes-Benz C200 | 135kW / 300Nm | 95.0 W/kg |
| Volvo S60 | 180kW / 350Nm | 112.4 W/kg |
Despite the lack of power, the BMW surprisingly feels like you're driving a sports car than a prestige car. It's hard to explain why this could be the case. My only explanation is that the eight-speed gearbox is tuned to push the power into the rear wheels (only the C200 is also rear-wheel-drive) with more aggression than its counterparts.
When you hit the suburbs of Sydney it becomes obvious that the BMW suspension is harder than it should be. Perhaps it's this lack of refinement that characterises the true BMW spirit. Where Mercedes-Benz champions physical refinement, and Audi focuses on the digital interaction within the driving experience, BMW somehow achieves a more engaging driving experience from an underweight in its class.
A quick look of the interior of the Europcar BMW 320i and you'll recognise that it's not something the BMW product managers care too much about. I'm sure that a higher-spec BMW, or one with more ticked checkboxes, would stand up to its German rivals. However I believe that Mercedes-Benz and Volvo would simply not release an entry-level car with such unrefinement. There's too much plastic, the leather seats are hard and un-supporting, and the sound system simply sucks. The cockpit is a temporary residence, but not somewhere to feel at home. An extra $3,500 would add the comfort package and a Harman/Kardon 16 Speaker Sound System. I can't imagine why you wouldn't.
Whilst not as smart or light as the Mercedes C200, driving the BMW 320i feels closer to their promise of the Ultimate Driving Machine than driving a Mercedes-Benz (leaving out the M-Series and AMG). Given that in 2010 Mercedes-Benz decided that they stood for 'The Best or Nothing', I can't help but agree with their position within the mid-prestige rental market.
You can currently find the BMW 320i at Europcar for $109 per day, and like the Mercedes you're limited to 200km per day. If you love BMW or simply want to drive with a little more spirit then I'd recommend giving it a try. However if you're considering a 3+ day rental or travelling much further, I would opt for any of the other options for a more complete driving experience.
Book the BMW 320i at Hertz here
Love renting unique cars?
We rarely send email, but when we do it is full of the juiciest tips and tricks on discovering unique car rentals.
You've already subscribed! Want to get in touch? Send us an email at
[email protected]
Enjoyed this post?
Why not subscribe and join the occasional Ride Hacks newsletter?
Subscribe